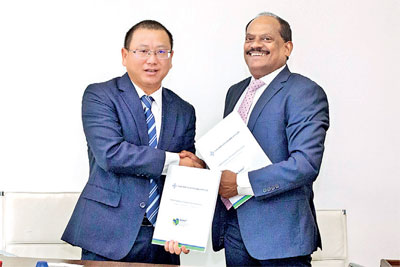 7 October 2019, Colombo: Port City Colombo, a world-class city in the making for South Asia, signed an MOU with South Asia's first-ever green university NSBM Green University Town (NSBM) at the Port City Colombo's Sales Gallery on the 7th of November 2019. Graced by members of the senior management of both institutions, the MOU solidified the Port City Colombo project's collaboration and endorsement of NSBM's industry partnership programme. The 'Industry Partnership' programme is designed to optimize synergies between NSBM and industry partners in relation to entry-level talent acquisition (internships and training), employer brand building, knowledge sharing, corporate brand building, special projects, incubation/entrepreneurship development, and talent acquisition of fresh graduates.
Port City Colombo is considered as a catalyst for future development and investment, with the development process itself being the most futuristic project at present in Sri Lanka. This MOU will complement NSBM's current full-time (from the 3rd year onwards) industry programmes, which is a unique feature of the institute that assures the employability of its graduates. Speaking at the signing ceremony, Vice-Chancellor of NSBM Prof. E. A. Weerasinghe said, "We at NSBM Green University Town are committed to and have always extended our efforts to groom our undergraduates to be industry-ready by the time they complete the degree programme. The Industry Partnership programme will help us in achieving this objective.
Our partnership with Port City Colombo is another step in the right direction and one we have taken with the best interest of our students at heart. We believe this partnership will be instrumental to them in the future as Port City Colombo takes Sri Lanka to the world by becoming a regional trade and financial hub." Managing Director of CHEC Port City Colombo (Pvt) Ltd Jiang Houliang commented, "As a development committed to the future generations of this country, we are happy to partner the NSBM Green University Town for its 'Industry Partnership' programme. Port City Colombo will provide the platform for these young men and women to pursue their aspirations to work, live and play in this world-class city". With a firm reputation as an industry leader offering undergraduate and post-graduate programmes in three streams (business management, computing, and design and engineering), and backed by the strength of real estate investor and developer CHEC Port City Colombo, NSBM aims to better prepare its students of today for the corporate world of tomorrow, building a capable and reliable workforce to ensure economic prosperity for the country as a whole.
About Port City Colombo
Port City Colombo is a brand new city development built as an extension of the existing Colombo CBD, with an initial investment of US$1.4 billion and an expected US$15 billion overall investment when completed. Spanning 269 hectares, it is a sea reclamation project connected to the current central business district. Port City Colombo is made up of 5 precincts: a financial district, central park living, international island, the marina and island living. When completed, Port City Colombo is estimated to have 5.7 million square metres of built space, boasting some of the best in design in terms of grade A offices, medical facilities, educational facilities, an integrated resort, a marina, retail destinations, hotels and other lifestyle developments. Using the latest sustainable city design and smart city concepts, Port City Colombo will be the hub of South Asia.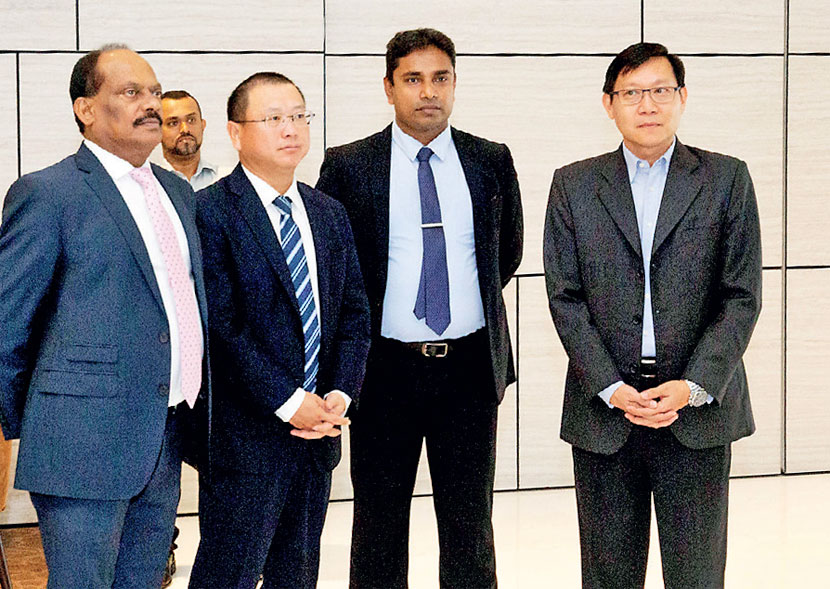 About CHEC Port City Colombo (Pvt) Ltd
CHEC Port City Colombo (Pvt) Ltd through China Harbour Engineering Company (CHEC) is a part of China Communications Construction Company Limited (CCCC). Incorporated in 2006, CCCC is listed on the Hong Kong and Shanghai Stock Exchanges and currently employs over 120,000 individuals, with a presence in 145 countries and regions. CCCC is the world leader in port design and construction, road and bridge design and construction, dredging, and container crane and heavy machinery manufacturing. In addition, CCCC is a leading player in building construction, and a major real estate investor and developer.
For the financial year ending December 2017, CCCC recorded revenue of USD79.4 billion, with total assets of USD183 billion. CCCC was ranked 91st among Fortune 500 companies in 2018 and 3rd on the ENR Top International Contractor in 2018. Among the illustrious accomplishments, CCCC is proud to have designed 5 out of 10 of the world's largest container terminals and cross-sea bridges. CCCC has been actively involved with developments in Sri Lanka since 1998, executing massive construction projects such as the Southern Highway, Outer Circular Highway, Hambantota Port, Mattala International Airport, Colombo South Container Terminal, and many other major infrastructure projects.
About NSBM
NSBM Green University Town (www.nsbm.lk) is a fully-fledged university town built on a 26-acre plot at Homagama. It hosts over 9,200 on-campus students at present, the highest student population at state and private universities to-date. NSBM offers UGC approved and foreign undergraduate and post-graduate programmes in three streams, namely Business Management, Computing, and Design and Engineering.