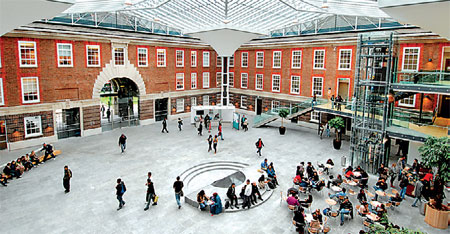 ACBT believes in education through practice and experience. Strengthening this conviction further, ACBT has partnered with Middlesex University; the number one Modern University (Times Higher Education Ranking) in the UK that follows a holistic approach to education developing curricular to produce work-ready graduates. In agreement with this focus of Middlesex University, ACBT gives the opportunity for its students to obtain hands-on experience by engaging in internships while pursuing their degree at ACBT.
ACBT, in partnership with Middlesex University, UK offers degree programmes in the fields of Business and IT: BA (Hons) Business Management (Finance) BA (Hons) International Business Administration BSc (Hons) Information Technology & Business Information Systems Giving more weight to learning through practice, the final year of Business Administration and IT degrees is based on 100% coursework, whereas the Finance degree is a mix of coursework and examinations. Therefore, involving students in internships gives them the ability to apply what they learn in the classroom at the workplace and vice versa.
The personalized approach of Business degree programmes gives students the skills needed to lead in Business and Management. Upon completing the Finance degree, students will be well placed to enter banking and finance in a wide range of businesses, government and third sector organizations. Students will build their skills in a live financial environment through workshops, simulations, role-play and case study analyses. Further, students will develop key business skills, knowledge and experience in order to excel in a finance and management career.
As part of the International Business Administration course, students will have access to a range of workshops, seminars, mentoring and events through Middlesex University's Enterprise Development Hub. Through this, students will gain extra support if they plan to start their own business, develop essential entrepreneurial skills, and learn vital skills that will give them a competitive edge for a successful career in international business. On the other hand, companies and organizations require graduates who have expert business knowledge, who can also demonstrate analytical and problem-solving skills, and the professional acumen to deal with challenges in a fast-paced business environment.
Therefore, Middlesex University degree programmes are an ideal investment for students who want to be ahead in the business sector. While studying an IT degree awarded from Middlesex University, students will gain a range of different skills needed by employers. Students will gain an awareness of the social, professional, legal and ethical issues involved in designing, managing and using information technologies. In addition, they will gain an understanding of the advantages of strategically aligning information systems with different organizational and business goals and operational activities.
Since the IT degree is based on 100% coursework, by engaging in an internship during their studies, students will develop skills needed to thrive in the professional world even before they enter the job market as graduates. With globalization, the job market has become more competitive and therefore an internship experience is more important than ever. To have internship experience on a student's resume gives a competitive advantage over other candidates who do not have any work experience.
Through an internship, students learn how their course of study applies to the real world and build a valuable experience that makes them stronger candidates for jobs after graduation. By the time they enter the job market upon graduating, they already have gained work experience and the know-how to operate in the professional world. Internships are a great way to build a professional network of contacts. Developing a good working relationship with work colleagues can be invaluable once the student enters the workforce.
Invitations to industry events, meeting others in the industry, and possible referrals to job opportunities can boost a student's career no matter what field he/she chooses. ACBT along with the Middlesex University understands the value of internships and encourage students to work while studying at ACBT because of its commitment to producing graduates who are both experienced and work-ready by the time they leave university. Enrolments are now open for the Middlesex University degree programmes starting in September 2019 at ACBT. Students can join the university 1st year after A/Ls (pending results) or join the final year with a Level 5 qualification.
For more information, please call ACBT on 0117699499 or visit 32C, Dickmans Road, Colombo 05.