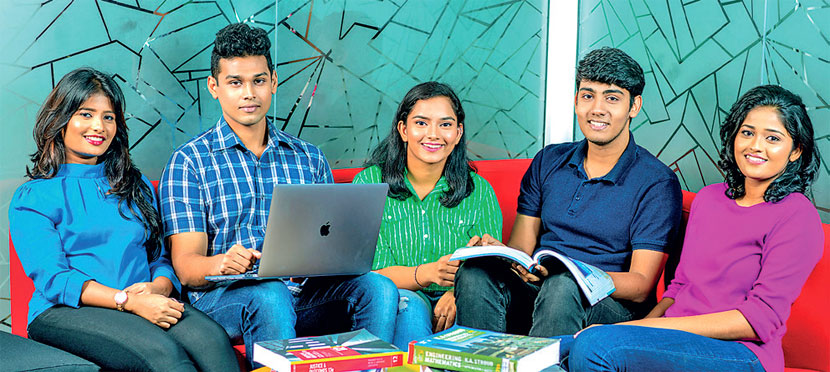 If you are interested in the broad spectrums of IT, Engineering, Health Science or Business, or even if you wish to study in America, UK, Australia or Malaysia, look no further. Offering you the very best from the world, NCHS is proud to offer various scholarship programmes to prospective students. On gaining one of the prestigious NCHS scholarships, students can complete their transfer programmes in Sri Lanka. Thereafter they have the opportunity to gain scholarships from the partner universities too!
Nawaloka College of Higher Studies
NCHS is a provider of globally recognized higher education qualifications. Located in the heart of Colombo, the NCHS campus consists of modern facilities, providing students with an international learning environment. With a strong commitment to provide high quality education, NCHS offers distinctive benefits that are tailor made to suit the needs of each individual student.
Global Education at Your Fingertips
NCHS is a guaranteed pathway to Swinburne University of Technology. The pathway programmes are specially designed to prepare students for success in their further studies. On completion of a pathway programme at NCHS, students can select the degree that they wish to embark on in the Swinburne campuses in Hawthorne, Australia or Malaysia. NCHS has also partnered with the global leaders in education, the Ulster University, UK , California State University Monterey Bay, California State University San Marcos, California State University Bakersfield, California State University Sacramento, California State University Northridge, California State University Fresno, Califor nia State University Humboldt and the State University of New York at Albany. The scholarships on offer are valid for transfer programmes at any of the above universities.
Grooming students to be the Best
At NCHS, students enjoy smaller classes, focused learning and one-onone time with the teachers, giving every opportunity to succeed in studies. This will equip students to 'be the best', and even be eligible for further scholarships. The study programmes conducted at NCHS are identical to that of Swinburne, Australia, Ulster University, UK as well as the American universities, and follow the same curriculum, methods of teaching and evaluations, ensuring high quality and international standards. These identical industryinformed and industry-engaged study programmes at NCHS are specially designed to combine rigorous academic studies with practical knowledge essential for the academic and career success of the students.
International Standards in Sri Lanka
The students have the advantage of being able to access the best of the partner university from the comfort of their own homes. Access to the library and the blackboard system give students the advantage of listening in and contacting the international lecture panel directly if they wish to. Student loan facilities at special interest rates are also on offer to help students pursue their higher education at NCHS from reputed banking partners.
Academic Excellence Scholarships
Academic Excellence Scholarships, up to 50% are awarded for the Swinburne University of Technology Pathway Programs offered at NCHS to selected candidates. Register now, and stand a chance to be a scholarship winner!
For more information, call 0777 899 998/ 0115 899 998 or email [email protected]