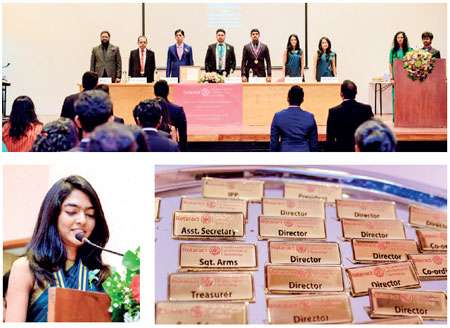 Marking the dawn of a splendorous year ahead, the 7th Installation Ceremony of the Rotaract club of SLIIT (sponsored by the Rotary Club of Battaramulla) took place on 27th July 2019 at the DHPL auditorium Colombo 02 with the year theme, "For a better tomorrow". Respecting the Sri Lankan traditions, the ceremony commenced with arrival of the guests followed by lighting the oil lamp. The outgoing president Rtr. Sethil Muhandiram called the house to order and the ceremony proceeded with the Rotaract formalities of flag salutation, Rotaract invocation, four-way test, and the Rotaract song.
The eve was energized with the united echo of the audience at singing the rotaract song. Next, it was the welcome speech by the project co-chairperson, Rtr, Tharoon Madusanka and then, the secretary's report for the year 2018/19 was presented by the outgoing secretary, Rtr.Parami Paranavithana. The report was supported with a video clip highlighting the signature projects carried out by the Rotaract Club of SLIIT during the year 2018/19. After the speech of the outgoing president, it was the moment of presidential appreciation awards to honor everyone who took part on the journey to make the previous year a success.
The prominent task of introducing the incoming president was done by Rtr. Parami Paranavithana. Rtr.Duleesha Waidyarathne was then collared as the 7th president of the club for the year 2019/20. Her speech emphasized the positive impact made by Rotaract on her life and not alone but together we can reach greater heights. As the newly appointed president, Rtr. Duleesha's first task was to introduce her huge Board of Directors and the audience admirably relished it. District Rotaract Representative, Rtr. PP Krishan Raghuvaran Balaji addressed the gathering by conveying his congratulations to the Rotaract Club of SLIIT while foregrounding that we are more powerful than we believe ourselves to be.

Moreover, the ceremony was enriched with the worthwhile speeches of the Guest of Honour, President of Rotary Club of Battaramulla, Rtn. Paul Haris Fellow, Nelu Fernando, District Rotaract Committee Chairman, Rtn. PP. Jegatheesan Pirrasanth and Chief Guest Mr. Yashas Mallawarachchi, Director Academic Affairs of SLIIT (Representing Professor. Lalith Gamage, MD/CEO, SLIIT). The evening was engrossed by the fascinating entertainment item of Rukshan Xavier. Before the conclusion of the ceremony, the Rotaract Club of SLIIT was showered with warm felicitations of the audience. The 7th Installation Ceremony of the Rotaract club of SLIIT was terminated after the vote of thanks delivered by the newly appointed secretary, Rtr. Thathsarani Wickramaarachchi thanking each and everyone for their immense support extended.
Hansi Edirisinghe