Organized by Canadian High Commission in Partnership with ANC
Date : Saturday, 16th February 2019
Date :Sunday, 17th February 2019
Venue : Kingsbury Hotel, Colombo
Venue :ANC Branch Campus, Kandy
Time : 10:00 a.m.-4:00 p.m.
Time : 10.00 a.m. – 3.00 p.m.
Canada is becoming the first choice as a study destination for international students around the world. This can be because of Canada's ambitious International Education Strategy which is their blue print to attract talent, and prepare the country for the 21st century. Canada has intensified their drive to be a world leading study destination and aims to double the number of international students by 2022. Canada also positions international students as a source of skilled labor and the Canadian government's policy change in 2016 has made it easier to apply for PR, receive points for academic credentials earned in Canada and the government legislation has eased citizenship requirements for international students making Canada one of the most attractive study destinations in the world.
The Canadian High Commission in partnership with ANC Education is hosting Sri Lanka's leading Canada University Fair 2019 bringing ample opportunities for students looking to study in Canada, the most popular destination in the world for international students seeking to pursue their higher education goals. The Canada University fair 2019 is your ultimate chance to explore the best universities and degree programmes that Canada has to offer. As Sri Lanka's premier foreign education fair, it is your opportunity to learn about the many different programmes and universities in Canada, meet Canadian university representatives, education advisors, and students from Canada all under one roof. Get ready with your questions and all the necessary information you need to know about the programme, university and ways you can make your dream to study abroad a success. Here are some of the prestigious university partners attending the Canada University Fair 2019
University of British Colombia, Canada
The University of British Columbia (UBC) is among the world's best universities; ranking among the 40 best globally, placed among the top 20 public universities in the world, ranked 3rd in Canada (QS 2019 world universities) and ranked 2nd place in the U.S News and World report. One of the best things about UBC is its spectacular location in Vancouver Island; Vancouver Campus and the Okanagan Campus attract, nurture and proactively transform more than 58,000 students from Canada and 140 countries. UBC offers over 60,000-degree programme choices for undergraduate and graduate students and for more than a century University of British Columbia is one of the world's Top research universities that has created positive change in Canada and abroad as a global center for teaching, learning and research. UBC students, faculty and staff continue to embrace innovation and challenge the status quo, placing UBC at the forefront of discovery, learning and engagement.
York University, Canada
York University is Canada's third-largest university and ranks among the best Universities in the world. York University's true strength is their exceptional degree programmes distinguished by their quality and global perspective. York U is home to Canada's largest liberal arts programme, the only space engineering and global health programmes in the country. York is also ranked Top 100 universities in the world in Social Sciences and Arts & Humanities while their Communication Studies, Linguistics and Philosophy programmes ranked Top 10 in Canada. York University is ranked one of the Top 10 universities in Canada for research impact and is proud to boast that 92% of their professors have the highest qualifications in their fields and employers know that a York degree is a promise of essential skills and deep knowledge, hiring 87% of York's graduates within six months of graduation. York campuses are located in Canada's largest and most exciting city Toronto that comes alive with the vibrancy of the community.
University Canada West
University Canada West (UCW) is Canada's contemporary university located in the heart of vibrant Vancouver. UCW is a business-oriented, teaching-intensive university that offers a range of career-focused programmes that will prepare you from the first moment you step on campus to your graduation, every experience is tailored to give you the best possible start in your career and their ACBSP-accredited MBA and BCom degrees will prepare you to be an effective leader in the workplace. University Canada West is a private university in British Columbia, Canada offering Bachelor of Commerce, Bachelor of Arts in Business communication and more. The University is accredited by the British Columbia Ministry of Advanced Education, Skills & Training, and carries the Education Quality Assurance (EQA) accreditation. The University is also a member of the British Columbia Council on Admission & Transfer. UCW's excellent faculty, flexibility, small class sizes, and degrees qualifications enable students to enter the job market with confidence and placing them in line with the best in the world.
Royal Roads University, Canada
Royal Roads University is a public university located in one of Canada's most beautiful National historic sites at Hatley Park on Vancouver Island. Royal Roads University has a long history of excellence and celebrated 75 years of leadership and learning. Royal Roads University's innovative model of post-secondary education has created an enviable track record of achievement and an impressive draw for students and scholar-practitioners engaged at the leading edge of 21st-century learning. Royal Roads University's unique and personalized approach with cutting–edge content and a unique course delivery model on a stunning campus makes for an amazing student experience.
The University's learning and teaching model helps students gain effective skills that can be applied immediately in their careers, through programmes created with input from industry professionals. You can be one of the lucky few who get the chance to meet and discuss your study plans with international admission directors and university representatives of these major universities from Canada. Meet them in person to discuss your academic pathways and let them guide you through the variety of courses and programmes to make your application a success. There will be many scholarship opportunities for students and they can also obtain guidance on study permits to Canada.
Canada offers the best of everything; ranked as the second country in the world with the highest quality of life, Canada is one of the safest countries in the world with a low crime rate and boasts higher educational standards that are equivalent to world leading universities in U.S and UK. Telecommunication, digital media, video games, biotech and aeronautical engineering are strong industries in Canada that are attracting students all around the world studying in these specialized fields, coupled with affordability and geographical beauty, Canada stands strong as a country with much to offer international students pursuing their dreams.
The Canada fair 2019 is a one-of-a-kind event that will provide you with every opportunity to meet, discuss and review all your higher education options with world class university representatives from Canada. Make sure to bring along your certificates, academic achievement records to secure the many scholarship opportunities offered. The University representatives of Canada who are attending are getting ready to meet with you at the event and they look forward to meeting and talking to each and every one of you to make your dreams of studying in Canada a great success.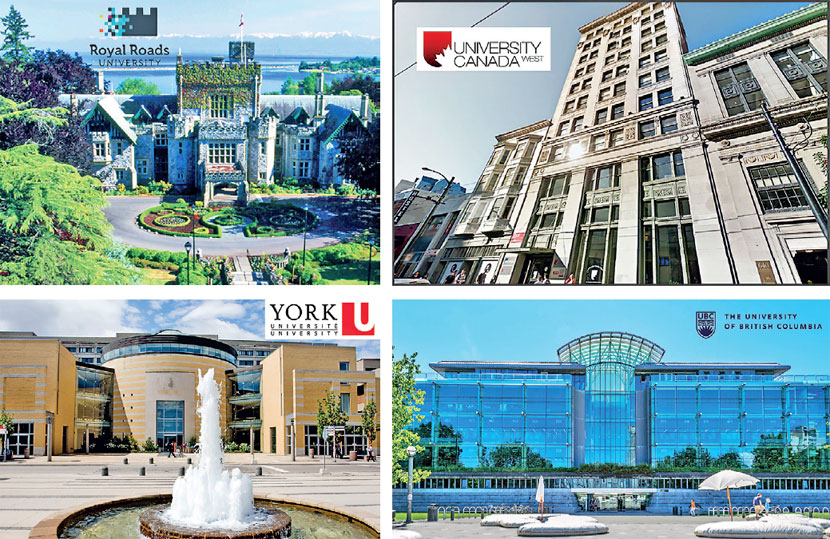 For more information, please contact 0773 957070 or visit us at www.ancedu.com | No.308 – 310, R. A. De Mel Mawatha, Colombo 03 or follow us on Facebook: https://www.facebook.com/ancedu/ and "ANC_Education" on Instagram for more updated on the event.