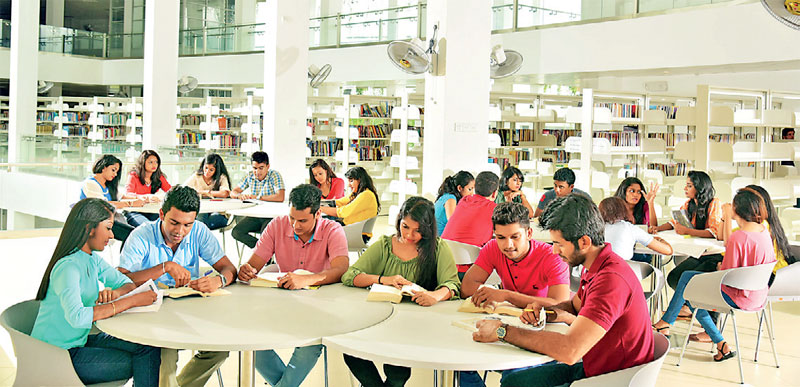 After your A/L results, You don't have to go abroad or spend millions to obtain a topranked international degree! It is all right here in Sri Lanka! The NSBM Green University Town stands out among all non-state sector degree awarding institutions in its dedication to offer degree programmes of high quality at an affordable cost here in Sri Lanka. Boasting of an ultramodern state of-theart campus, in Homagama, away from the hustle of the city, nestling in the greenery and quiet of a suburban setting, the NSBM Green University Town offers an idyllic environment for those who wish to engage in higher studies and research.
Not only Sri Lankan University Grants Commission approved degrees, NSBM also offers the option of following degree programmes from the top-ranked universities from around the world. You also have the opportunity of completing the degree in Sri Lanka, or fly to the relevant country for the final year or two. NSBM offers you the option of choosing from the largest no of top-ranked foreign university programmes within Sri Lanka. University College Dublin underwent the QS World University Rankings beginning of June 2017, and its ranking has been improved to 168 in the world; UCD is the highest ranked University currently in Sri Lanka.
University of Plymouth is a top 40 university in UK, and Victoria University, Australia is ranked in the world's top 2% (THE World University Rankings 2016/2017) and firmly positioned in the QS World University Rankings 2016/2017). Apart from the global university experience, NSBM allows you to get involved in activities such as the summer camp, where you will meet and interact with foreign students. These Summer Camps organized by NSBM act as student exchange programmes during the summer semester.
They comprise of many knowledge and skills development sessions at NSBM, while visiting cultural, historical and sight-seeing locations in different parts of the country. In turn, a group of NSBM students tours a foreign country where they shall participate in expeditions to tourist destinations with historical significance, training sessions and industrial visits. Whilst in Sri Lanka, they network and intermingle with NSBM students, for workshops, cultural events and many other activities. The familiar set-up of foreign universities and language ability of NSBM students makes it easier for them to obtain the best out of the summer camps.
The University Town comprises multimedia enabled lecture halls, computer labs, an enormous library, independent study areas, open air theater and a state-ofthe- art auditorium as a few of the highlights of this complex. Amenities for the health and recreation of the student community consists of playgrounds, fully equipped gymnasia and swimming pool among others. Accommodation facilities, modeled after those in prestigious European universities, for both students and staff, are located within the university premises.
Moving beyond the components of a traditional university, NSBM Green University Town consists of in-house super markets, salon, bookshops, banking facilities, business centers, etc. that will add to the learning experience of the students.
Call us now on 011 544 5000 to set up an appointment to meet the course directors for each university. Visit www.nsbm.lk, or write to us at inqu[email protected] for more details. Like our Facebook page to stay up