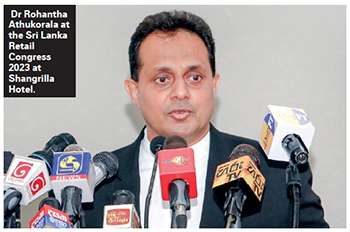 Given that a typical Sri Lankan household has experienced unprecedented price shocks like fuel prices going up by 250%, Gas by 275%, water by 200%, electricity by 350% a typical household is now bern forced to be Smart Consumers said business personality Dr Rohantha Athukorala as at the Sri Lanka Retailer Congress 2023 staged at Shangrilla Hotel. This is edition of presented by the Retail Association of Sri Lanka attracted over three hundred professions who are looking for new ways working to cater to the tough economic climate. Marketing professional Dr Athukorala, explained how the country has seen the poverty levels touching seven million people whilst households who purchase milk powder dropping by almost forty percent which is the reality at the household he said.
This has led to a typical housewife being more financially responsible moving to smaller packs, keeping all receipts filed in a safe place in case one needs to challenge a retailer later on if the product faulter whilst the price of the product is checked individually before payment happens said Dr Athukorala. A typical housewife wants to make informed decisions and we see consumers now doing their homework by checking consumer reviews, reading the finer prints in the contracts and they know their rights as consumers at a typical retail outlet voiced he said.
We call this behaviour ' Smart Consumer behaviour' which forces companies also to become smart companies with smarter strategies. Which means that a professional must be contemporary in their thinking by reading best practices globally, studying for masters programmes so that you are ahead of the curve advised Athukorala who heads an Artificial Intelligence IT company who does brand mapping in the South Asian region. The President of the Sri Lanka Retail Congress Is Charitha Subasinghe who heads the Keells Retain Chain at John Keells Holdings Plc.