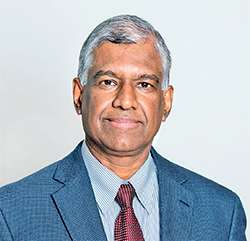 SLIIT proudly announces that one of its eminent academics, Professor Nimal Rajapakse, has once again been recognised as one of the world's top 100,000 researchers, a distinction revealed in a recent global study conducted by Elsevier, a renowned leader in research data. The 2023 top 100,000 researchers list has only two professors from Sri Lankan universities, including Professor Janaka Ekanayake from the University of Peradeniya. This recognition not only underscores Professor Rajapakse's exemplary contributions to research but also highlights SLIIT's growing influence on the global stage.
Released on October 4, 2023, the study, entitled "Updated Science-Wide Author Databases of Standardised Citation Indicators," was spearheaded by Professor John P.A. Ioannidis from Stanford University in the USA. The extensive analysis recognised the exceptional achievements of scientists across the globe, including Professor Nimal Rajapakse, who has been on this prestigious list since its inception in 2019. The selection criteria for this distinguished recognition require researchers to rank within the top 100,000 across all disciplines based on their career c-score.
Professor Rajapakse's repeated inclusion in this exclusive group underlines his outstanding contributions as a researcher and an academic influencer of global significance. Professor Nimal Rajapakse, known for his dedication to research and academic excellence, has played a pivotal role as Senior Deputy Vice-Chancellor and Provost in shaping SLIIT into a world-class institution. His presence among the world's top researchers underscores the impact of SLIIT's commitment to academic excellence, innovation, and research.
SLIIT extends its warmest congratulations to Professor Nimal Rajapakse for this well-deserved and repeated recognition on the global stage. His dedication to pushing the boundaries of knowledge and his unwavering commitment to academic excellence continues to inspire the entire SLIIT community. SLIIT is the pre-eminent non-state post-secondary institute in Sri Lanka, specialising in Computing, Engineering, Business and Humanities and Sciences. Established in 1999, SLIIT has consistently pursued excellence in higher education and research, fostering a culture of innovation and learning. SLIIT has been ranked among the top seven universities in Sri Lanka by several international university ranking organisations.