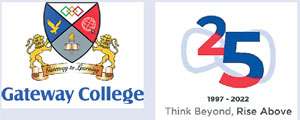 Seven Cs by Gateway is an exploration platform for little ones, a place where the Seven Cs, which are unique human skills that must be nurtured in order to thrive in the modern world, are integrated into the learning experience of the child. With this approach, students are nurtured and encouraged to develop greater capacities for grit, resilience, empathy, altruism and the ability to respect and work with one another. The Seven Cs - Critical Thinking, Creativity, Collaboration, Communication, Culture, Character & Cheerfulness come alive at Seven Cs by Gateway through an integrated learning programme that incorporates activities, play and events conducted at the Kindergarten, Day Care & the Activity Centre, in order to facilitate the spiritual, moral, cultural, mental and physical development of each child in its care.
A fully owned subsidiary of the Gateway Group, Seven Cs Pre-schools, is located amidst picturesque, nature-friendly surroundings at Moratuwa, Nawala, Battaramulla & Athurugiriya. The schools offer plenty of garden space and provide a homely atmosphere for the little ones. Making steady progress, Gateway plans to begin its next kindergarten in Piliyandala in the near future.
Kindergarten
The face of education has changed dramatically over the past decade. Teachers are challenged to equip children with the skills needed for success in the 21st-century world. Accordingly, the curriculum at Seven Cs is designed to foster learning environments that encourage these skills and lay the foundation for the growth of an intellectually curious and emotionally well-balanced child, who will be prepared for the boundless future ahead.
Day Care
Qualified child-care professionals provide a safe, nurturing, and loving environment for children from the age of 18 months, placed in their care. Parents are assured of consistent attention for their child, in a space that feels like home. Multiple disciplines are incorporated into a structured programme where the little ones are encouraged to learn through many activities and creative play.
Activity Centre
The Activity Centre integrates the Seven Cs with a comprehensive STEAM (science, technology, engineering, art, and math) educational model focused on developing skills necessary to explore ideas and foster growth. Structured programmes in STEM, Robotics, English, Speech & Drama, Arts & Crafts and Computing are offered by experienced teachers to children from the age of 4 years.

For inquiries and admissions please contact: Moratuwa|0112641509, Nawala| 0777875447, Battaramulla |0112053044, Athurugiriya |0112177808 |www.sevencs.lk| Email: [email protected]