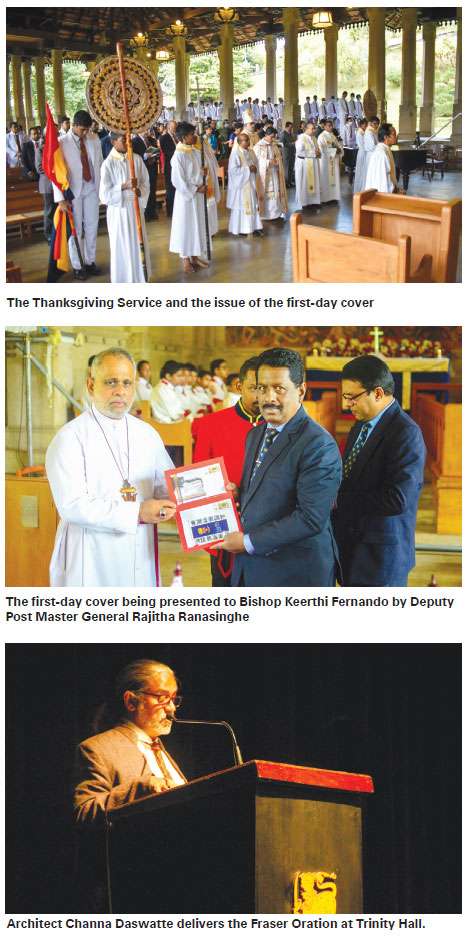 Trinity College, Kandy, celebrated its 150th year with a Thanksgiving Service at the chapel, the issue of a first-day cover, and the Fraser Oration by eminent Old Boy Channa Daswatte. Trinity College was founded in 1872, but its origins go back to the arrival of the first missionaries who after penetrating into the Kandyan Kingdom set up a mission house in the present location. In 1823, Rev Ireland Jones commenced an elementary school, but it was closed. In 1872, it was re-established by Rev. Richard Collins. But, the college as it is now is the work of a Scottish priest Rev Alexander Garden Fraser who was only 26 years when he took over Trinity.
He would be remembered for years to come. The school's 150-year celebrations concluded with the "Fraser oration" by Channa Daswatte, an architect of repute. Mr. Daswatte said the opening lines of the school song were written by a teacher at Trinity College, Walter Senior recruited by Fraser in his quest to make Trinity College a better place than he found. There is a saying about Fraser that he found brick and mortar and he left marble and stone for Trinity and has lived on for many years. Thinking about this, he said he wondered to himself about the relevance of his path in life in preparing him to be a reasonably successful architect and survive the past 35 years of his life.
Mr. Daswatte said that in a recent address, the Chief Justice of the United States suggested that whatever and however one goes through life, one will experience both success and failure. The Chief Justice went on to say that he was not simply going to wish the students he was addressing the very best. Instead, he said that each of them would be betrayed so they would understand the importance of Justice; that they would all be betrayed so that they would understand the concept of loyalty, would be lonely so that they appreciate the friendship one has made; would be ignored so that one learned to listen and empathize and learn to understand sportsmanship.
To this, Daswatte said he would add they needed to be excluded to understand the importance of being inclusive and compassionate and through it all to believe in oneself - a healthy dose of humility. Mr. Daswatte said that as Trinity progresses further into the 21st Century, it is necessary to understand that its basic function is to create the circumstances that give the best possible classroom education and to allow for its students to be competitive anywhere in the world. Mr. Daswatte said every other school will strive to do this and possibly achieve this even ahead of Trinity.
What will make Trinity meaningful in the future is not the school song or declaring itself as the best school of all, but its profound weight of history with the great tally of Bradby Shield matches won or Professors, Generals, and Professionals recorded in its annals. Trinity's Greatness will be to provide an environment in which all this and more will combine to make its future students capable of dealing with situations where they are treated unfairly, betrayed, or ignored and learn from bitter experiences to make a better life not just for themselves, but for their fellow beings as well.
Concluding, Mr. Daswatte said the Fraser oration was based on life lessons he learned in Trinity. He said many of Trinity's values had impacted his life. They were indeed a part of a vision made for a school by a singularly strong leader who headed this school and was determined in making citizens of this country conscious of the needs of society that they inevitably would become part of. The Principal of the College Rev. Araliya Jayasundera welcomed the invitees including the Bishop of Kurunegala, the Bishop-elect Rev. Fr. Nisantha Fernando, and the Board of Governors. The vote of thanks was delivered by Vice Principal Krishanthan Antonydas. He thanked His Lordship Keerthi Fernando, Bishop-elect Rev. Nisantha Fernando, Sabaragamuwa Provincial Governor of Tikiri Kobbekadwua, and other distinguished invitees. The compere was School Officer Shernain Wavita.
- L.B. Senaratne