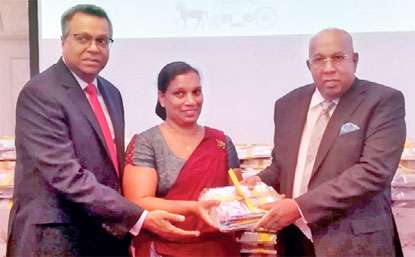 25,000 worth of books and other school equipment were distributed by Kingsbury Colombo to over 2,500 children from 25 deserving schools, (one school from each district), at a ceremony at the Hotel last week. The occasion was graced by Mohan Pandithage, Chairman and CEO of Hayleys PLC, and Rohan Karr, MD of Hayleys Leisure. Principals of the schools attended the event, with some arriving the day before and most on the day, with the hotel providing accommodation and meals to all. The event commenced with a multi-religious blessing, followed by refreshments and lunch.
The Carriage of Hope project – launched on November 27 – was a CSR initiative centered around the state-of-the-art Christmas horse carriage, designed and assembled by the Kingsbury Engineering Team and displayed within the hotel premises during the festive season. Guests and visitors were encouraged to take a picture with the Carriage and share it on social media platforms, tagging the hotel, in order to contribute towards this initiative. One tag was equivalent to one book and those who wished to purchase a bundle of books to support a child (or more) were able to do so at the hotel lobby and via the Kingsbury Indulgence website.

Hotel employees and employees from Hayleys Leisure and Hayleys PLC also joined hands to contribute and purchase books. "During these trying times, we wanted to celebrate the season by supporting students from across the country. The Carriage of Hope project was conducted also to spread awareness on the rise in prices of educational supplies so that many would be encouraged to help children in need," said Mr. Karr. Due to the overwhelming response from guests and the public, the target number of 25,000 was achieved on December 27, four days prior to the set end date of the project. "On behalf of all the principals present, I would like to thank The Kingsbury Hotel for this generous donation which will certainly help our students this year," said one of the principals participating in the ceremony. The Kingsbury Hotel will continue helping and assisting these students throughout the year.