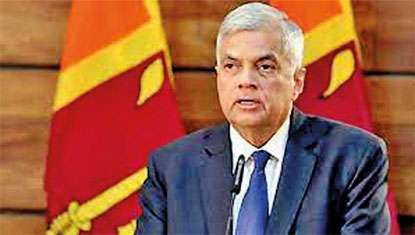 President Ranil Wickremesinghe recently expressed confidence that Sri Lanka could become a regional education hub. Speaking during the committee stage debate on the Education Ministry's head of expenditure, the President said the country was losing billions of US dollars in foreign exchange due to students going abroad for higher studies. "You are allowing billions of US dollars to go out, at least US$ three billion. So not only can we retain that US$ three billion, but if we do it right, we will be able to attract another US$ ten billion. We must do that," he said. Mr. Wickremesinghe also claimed that authorities needed to ensure that students passed out from universities at the earliest opportunity without wasting years as internal students.
He said students passed out by age 21 or 22 when he was a student. "Yet today, how many pass out by that age?" he asked. Moreover, Opposition MPs speaking during the debate said many parents were now struggling to pay for their children's education. Samagi Jana Balawegaya (SJB) Parliamentarian Kavinda Jayawardena said the SJB also agreed with the President on the need to open up education to the private sector. "We need to let go of petty politics and allow the setting up of private universities, higher education institutions and especially medical colleges in this country to take place," he said.
On the other hand, SJB Parliamentarian Rohini Kumari Wijerathna said today parents had to decide whether they educate their children or feed them. "A parent now needs to spend at least Rs. 20, 000 on the first school term of one child. Only 6.3% of the 2023 Budget has been devoted to education. That is Rs. 232 billion. It is unclear how much will be left to work with once the funds are used for payments of salaries and transport allowances. We are only above Bhutan in South Asia in terms of budgetary allocations for education," she added.
"We have to go for an education transformation within the next seven years. We must move towards that at twice the speed we are moving now. The more time we fight about the rights of adults, the less time we have to speak about the rights of 4.2 million schoolchildren," added Education Minister Susil Premajayantha. He said the priority should always be teaching in the classroom. Explaining some changes the education sector would undergo in the future, Mr. Premajayantha said there would no longer be term tests for students from Grades 1 to 5. There would only be one exam at the end of the year.
However, students would have to earn a certain number of marks. "We are planning to gradually change the exam-centric system in our schools. If you look at the Australian education system, 70% of the marks for students are being given in the classroom while only 30% is given at exams," he said. He also said the Government would begin Science, Technology, Engineering and Mathematics (STEM) education for Grades 6 and 10 from next year. Over the past 20 years, there had been only two years where at least one percent of the Budget had been allocated for education, former Education Minister and Sri Lanka Podujana Peramuna( S L P P ) Parliamentarian S.B. Dissanayake said.
He said most of the public education sector was in a pathetic state, and added that the best way to improve the situation was for the Government to attract some of the 270, 000 of the most wealthy parents who have their children in international or private schools. Furthermore, National People's Power (NPP) Parliamentarian Dr. Harini Amarasuriya cautioned lawmakers not to formulate policies based on their personal experiences. Countering the President's claims about students passing out late from universities, she said under the present situation, many students are already around 21 years of age when they enter university. "We should also not make policy decisions based on whether we like a particular person or not. Policies should be formulated based on data, facts and the situation on the ground," she said. -SJ