Prize distribution for winners of school-level & zone-level competitions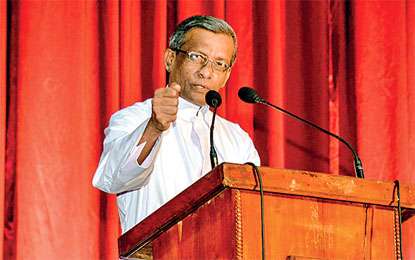 Negombo's leading Catholic boys' school, Maris Stella College, recently held its prize-giving for winners of competitions hosted in line with the college's centenary celebration. The competitions were conducted under two categories: internal & interschool, the latter involving schools in the Negombo educational zone. Accordingly, 1582 winners collected their awards for winning/participating in the following events: Singing (English & Sinhala), Dancing (Eastern), Art & Sculpture, Drama (English & Sinhala), News reading (English & Sinhala), Digital Arts and Science & Technology (innovations).
The ceremony was held in 2 parts: morning – for winners from grades 2 - 9 of Maris Stella College (Main & Thimbirigaskatuwa) and evening – for winners from grade 10 upwards of Maris Stella College (Main & Thimbirigaskatuwa) and the winners of invitee schools (Negombo Zone) from grades 2-13. Rev. Br Nicholas Fernando, Provincial – South Asia, Order of Maris Brothers was the Chief Guest of the morning session while the OBA President Ajith Weerasinghe & distinguished past pupil Felix Fernando graced the evening session as Special Guests. Commenting on the event, the Principal of Maris Stella College Rev Br Sunanda Alwis noted: "As Maris Stella celebrates 100 years, we are pleased to have organised a host of activities to benefit not only our own student population but also sons & daughters of fellow Negombo schools.
I would like to extend my sincere gratitude to the organisers and principals, staff & students of schools in the Negombo zone for accepting our invitation & taking part in the competitions. I congratulate all winners & applaud all participants for their time and effort." Meanwhile, President of the Old Boys' Association Ajith Weerasinghe said that he considered it a rare privilege to have been selected out of 24,119 Maristonians to be the OBA President on the momentous occasion of the school celebrating 100 years of existence & excellence.
OBA member & Managing Director of Omega Line Ltd Mr Felix A Fernando attributed his success to the strong foundation laid by the school: "Maris Stella College moulded us into well-rounded citizens aligning us with Christian virtues such as forgiveness & empathy that have helped me tremendously in my personal & professional endeavours. My sincere gratitude goes to present & past principals, administrators, staff, OBA members & other parties who have – with their respective contributions – elevated Maris Stella to its current standing as one of the country's leading boys' schools." Upul Mendis, Convenor, Centenary Celebration Committee said that by involving neighbouring schools Maris Stella intended to share the "Maris Charisma" with the rest of Negombo.
Apart from himself, the Head of English Ms Nirmala Wijedasa & Deputy Principal - Finance & Planning Rev Br Pradeep Hettiarachie were closely involved in organising the competitions. On behalf of the staff, Ms Nirmala Wijedasa thanked everyone who supported in different capacities to bring the school's vision with these competitions – to create an inclusive city-wide platform for showcasing & recognising talent – to fruition. Throughout 2022, Maris Stella has held/will hold many events to celebrate the Maris legacy spanning a century since its inception in 1922. Last week Maris Stella hosted the Maris Motor Rally (MMR) which brought many generations of Maristonians closer together. - Crystal Koelmeyer