Established in 1999, APIIT Sri Lanka is well known for its contribution to the higher education industry in Sri Lanka. With over 1,400 students in enrolment and an annual intake of over 500 students, the institute is one of the largest and oldest providers of foreign degree programmes in Sri Lanka. A reputed higher education institution established in partnership with Staffordshire University UK and Asia Pacific University of Technology and Innovation in Malaysia, APIIT is well known for guiding students to become industry engaged and job ready through inclass and extra-curricular activities. APIIT Law School has organised many events in 2022 alone, such as numerous competitions and the launch of the Law Journal. The latest event in the university calendar was the Inter-School Debating Competition.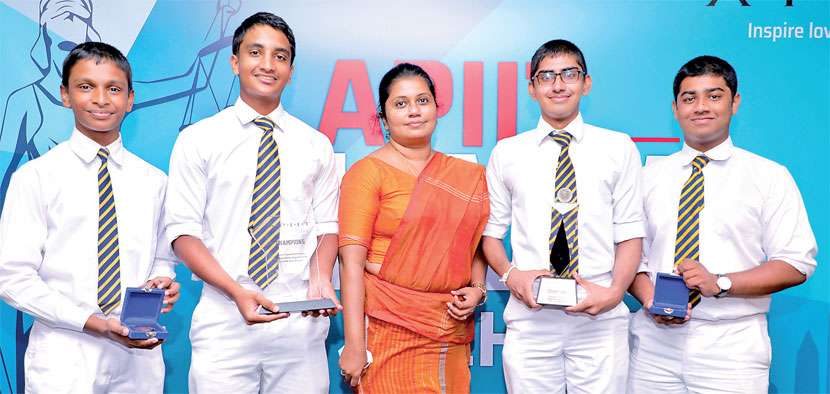 1st Edition of the Inter-School Debating Competition
The 1st Edition of the Inter-School Debating Competition organised by APIIT Law School 2022 was held between the 3rd and 25th of March. The competition was conducted in English and followed the 'Asian Parliamentary' debating format The aims and objectives of the competition were as follows; bringing together students from around Sri Lanka to compete in a series of debates and to deliberate upon pressing social issues such as climate change, period-poverty, the COVID-19 pandemic and vaccination drive, revisions to the school education system and abolishing personal laws in Sri Lanka.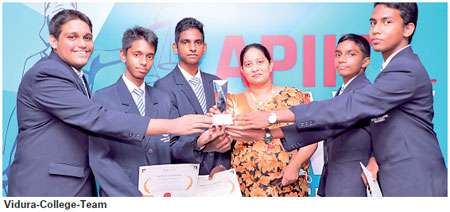 Other objectives included creating a common platform for students to exchange ideas and showcase their oratory skills, as well as facilitating a mutually beneficial network amongst students. The Preliminary and Quarter-Final rounds of the competition were conducted via online video conferencing medium. The Semi-Final and Final rounds took place as physical events at the APIIT Law School Moot Court. The keynote speech was delivered by Attorney-at-Law and IICA Certified Mediator and Negotiator, Ms. Saranee Gunathilake at the Opening Ceremony.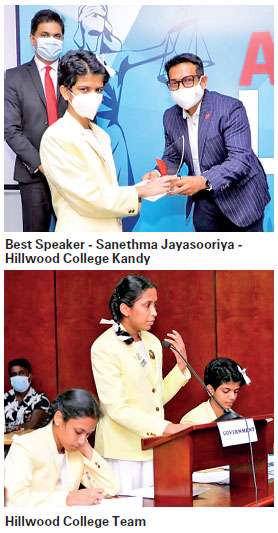 Teams representing 14 schools competed at the Preliminary Rounds. The semi-finalists wereHillwood College, Kandy, Kingswood College, Kandy, Royal College, Colombo and Vidura College, Hokandara. The finalists were Royal College, Colombo and Hillwood College, Kandy. Royal College emerged as Champions, while Hillwood College and Vidura College became the 1st and 2nd Runners up respectively. Ms. Sanethma Jayasooriya from Hillwood College Kandy was adjudged the Best-Speaker of the Final Round. Awards were also presented to the Top-10 best speakers of the Preliminary Rounds.
The Final Round of the competition was adjudged by Dr. Rose Wijeyesekera (Senior Lecturer, Faculty of Law, University of Colombo), Attorney-at-Law Mr. Rajeev Amarasiriya (former Secretary of the Bar Association of Sri Lanka) and Deputy Solicitor General Ms. Kanishka de Silva Balapatabendi. President's Counsel Mr. Shavindra Fernando graced the Closing Ceremony as the Chief Guest. Events such as the Inter-School Debating Competition groom students to excel in the legal profession on completion of their studies. Furthermore, the exposure and experience gained will add value to the students' future endeavors.
APIIT LLB
The LLB programme at APIIT is constantly updated to be on par with local and global requirements. The degree has 26 modules on offer, including 10 core modules. With the legal profession increasing in popularity, new areas within the industry emerge. APIIT is proud to have introduced new optional modul e s, name ly Fami ly Law, Environmental Law and Information Technology Law. With local and international links and affiliations, students who study law at APIIT are in for more than a class bound education. Students are encouraged to pursue interests outside the classroom and are mentored to take part in competitions.
Start your Journey in Law, Today.
For more information, call APIIT Colombo on 0765 788 788 or APIIT Kandy on 0773 577 877 or email info@ apiit.lk.