Crysbro-NOCSL Next Champ's Ravindu Jayasundara anticipates win at the World Junior Athletic Championship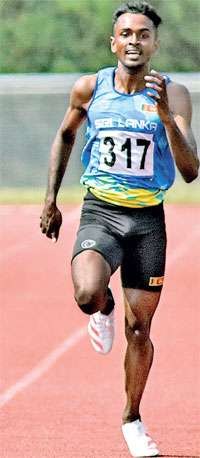 Aspiring young track athlete Ravindu Jayasundara, a noteworthy recipient of the Next Champ Scholarship Programme jointly initiated by Crysbro and the National Olympic Committee of Sri Lanka (NOCSL) to enable and empower aspiring young athletes, is looking forward to returning to the World Junior Athletic Championship 2022 and bringing home a coveted medal. Jayasundara, who represented Sri Lanka in the World Junior Athletic Championship 2020 in sprinting event, currently holds 20 gold, three silver and three bronze medals, accumulated over his performances at the Junior Athletics Championship 2019, John Tarbet Championship 2019 and the All- Island School Games 2019, among other competitions, where he was able to place first in the 100m, 200m and 400m track events.
Sharing his thoughts on the event, he noted that his experience was surreal, as it was the first time he will travel out of the country to represent his nation at the World Junior Athletic Championship 2020. "It took a lot of practice and many trials, both in life and in the field, to get here. I'm looking forward to returning to the World Junior Championship and giving my best to bring home a medal," the aspiring sprinter said. Further, he expressed his gratitude and thanked the NOCSL-Crysbro Next Champ initiative for enabling him to take part in the event with confidence. "The scholarship came as a huge blessing, especially in an economically challenging time such as now, where your family has to painstakingly struggle to support and sponsor your athletic needs.
Through the Next Champ programme, I've fully realised my potential and have the capacity to give my best. I sincerely thank the National Olympic Committee and Crysbro for their support, and hope they continue to support athletes like me through similar initiatives," he added. Crysbro's Next Champ programme so far has successfully paved the path towards supporting the aspirations of, and uplifting over 150 talented male and female youth athletes from Sri Lanka towards the international sports arena. The programme aims to provide financial assistance to more competitive youth from underprivileged regions, who have the potential to enter flagship events such as the Youth Olympic Games 2022, Asian Games 2022, Commonwealth Games 2022, and 2023 South Asian Games.
The initiative has also successfully produced a collection of athletes who secured gold and silver medals at the 2019 South Asian Games in Nepal. The scholarships cover the costs of nutrition, transportation, coaching fees, accommodation, clothing and sporting gear and medical expenses necessary for the training, grooming and development of each selected athlete. Young athletes are also given access to a combination of highly value tools and world class mentors, including foreign training exposures. Additionally, Crysbro, along with the NOCSL, kicked off Next Olympic Hope, an extension of the Next Champ scholarship programme, to allow the public to support 20 young athletes selected from the NOCSL-Crysbro Next Champ programme, who have proven themselves through multiple wins in both the local and international arenas.
Through Next Olympic Hope, Sri Lankans living within and outside the country can make well-deserved donations to support these young and budding athletes, via www.nextolympichope.com. Crysbro Next Champ not only recognises and rewards young sporting talent from all corners of the country, but also grooms budding athletes from multiple sporting disciplines with guidance from experts on aspects such as proper training methods and a suitable diet. The project's founding vision sought to bolster Crysbro's already significant social contribution as a key pillar of the country's rural economy, thus creating sporting opportunities and promoting the message of staying physically and mentally active.