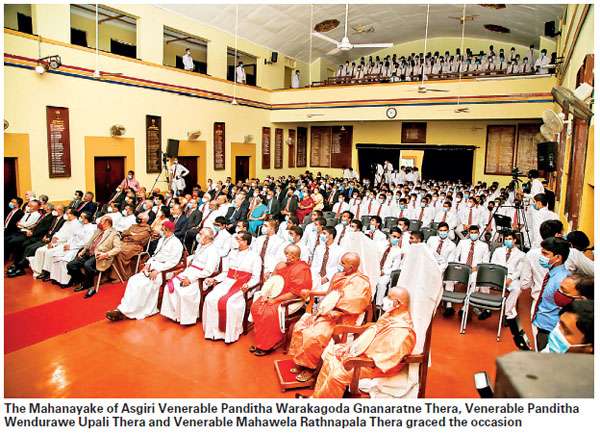 At the 150th anniversary celebration of Trinity College, the school's principal Revd. Fr. Araliya Jayasundera said there is a need to focus on a robust and holistic education model that empowers the child to face the challenges of the 21st century. "It is paramount that all stakeholders of Trinity partner in this critical transformation," he said. The celebrations were held at the Trinty College Hall and the Chapel of Trinity College.
The presence of the Mahanayaka Thero of the Asgiriya Chapter, Most Ven. Panditha Warakagoda Sri Gnanaratne Thera, the Anunayaka Thera of the Asgiriya Chapter, Ven. Panditha Wendaruwe Upali Thera and Ven. Mahawela Rathanapala Thera of the Malwattha Chapter at the "T150 Sesquicentennial Anniversary Celebration" of Trintiy College marks a chapter of firm binding and goodwill among people, whatever the religion they share.
The celebration was held on the January 17, which is also the commemoration day of the Christian Missionary founders of the College, with a Solemn Service of Thanksgiving in the historic Trinity Chapel, presided over by Bishop of Kurunegala Rt. Rev. Keerthisiri Fernando, attended by the Trinity fraternity and well-wishers. The homily was delivered by Bishop of Colombo Rt. Rev. Dushantha Rodrigo.
The chapel service was followed by the inaugural Rev. A.G. Frase r Memor i a l Oration delivered by Prof. Malik Ranasinghe, Vice- Chancellor Emeritus of the University of Moratuwa. The principal said the theme for the celebration was "Exploring Vistas of Excellence." "T150 is a watershed event for the Trinity Family. The T150 Sesquicentennial Anniversary Celebration, thus, is an opportune moment for the Trinity Family to recall and renew the pioneering vision of those erudi t e men and women, who ventured into new horizons, exploring new vistas of excellence of education in Sri Lanka," he said. The oration which followed aptly elaborated on the critical interventions required to form a 21 st-century Trinitian.
(L. B. Senaratne)