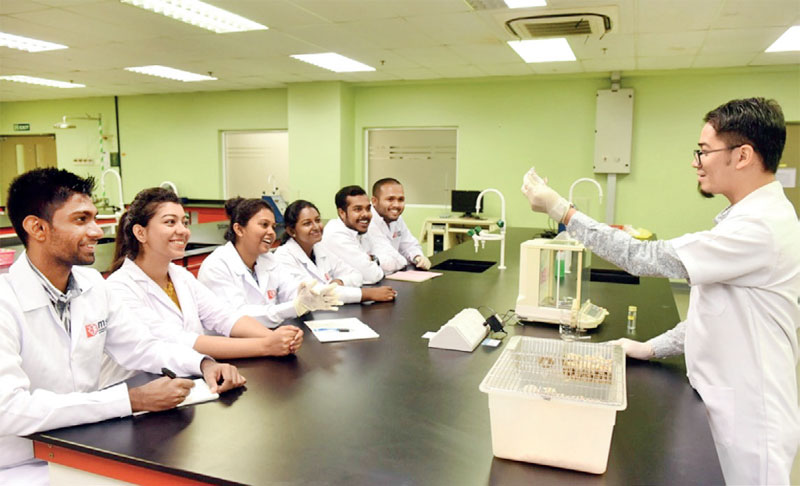 Management & Science Institute (MSI) gives the priority to quality ed¬ucation and the importance of creative teaching methodologies towards pro-ducing quality and holistic graduates. Besides incorporating international exposure in students' learning expe¬rience, extensive industrial training components and personal enrichment competency elements are also blended into the programmes of study to ensure graduates' employability.MSI graduates remain a popular choice among employers, with a grad¬uate tracer study conducted by the Higher Education Ministry showing a 98% employability rate for its graduates entering the workforce.
When students are prepared for professions in biomedical science MSI has specially encountered on student's capability of working well in work place environment/industry and research field. Therefore their internship provided to students in diploma and bachelor in Biomedical science maintained in a sophisticated level where students are able to gain the maximum benefits. MSI is well aware of students' skill that are needed to be developed for professions of Academic research scientists, Biomedical scientists, Medical Lab managers, Product specialists, Medical sales, Clinical regulators,Toxicologists, forensic scientist and medical device diagnostics.
Therefore the skills as team player, meticulously, analytical and synthesis , endurance in continuity, high accuracy, enquiring mindset, good problem solving skills, leading and coordination skills, strong spoken, written and presentation skills, also empathy towards patients are well developed as the core values of MSI students The internships provided by MSI come with high responsibility in both internship provider and the institute to ensure the students development. In present MSI is having students in both overseas and local research institutes and hospitals. Unlike in many institutes MSI does not consider internship is only for the completion program, they ensure the five credits given for internship is completed with relevant skills and experience development of the student. Main actions they have taken for these are high communication and coordination between the institute internal supervisor and the student's external supervisor.
The time to time uninformed visits of internal supervisor to the internship institute make students work with high responsibility in every activity they perform and maintain professional work habits at the respective work place. Excellent evaluation criteria of internship, through log book evaluation, report, presentation and viva focusing on the practical problems they faced and ways of solving them enhances the credibility of recruiting MSI student over the peer biomedical students in other institutes Most importantly must mention the training session given at the management and science university, Malaysia contribute the students work well in the multinational hospitals like Hemas, Browns and Lanka hospitals and overseas Research Laboratories.The exposure given to students by allowing them to handle hi tech instruments and novel biomedical tests increase the student's competency in adapting to foreign work environment and maintaining a good career easily.
These internships and training also contribute vastly on the students who wish to continue their higher studies. Many MSI students are currently in the partner universities located in Germany, UK and Australia continuing their Master and PhD degrees. As Prof. Wanninayake, Academic Advisor and Research Supervisor of Biomedical science students at MSI mentions,the main reason for getting selected to above mentionedUniversities is the Research exposure and the foundation provided at MSI and the keen industry experience through internships.
Further information on Management & Science University (MSU) Malaysia's Programmes offered though MSI Colombo, can be obtained by contacting us on 0112576644, 0112576700, Hot Line 0770777880, email [email protected] or visiting Management & Science Institute (MSI), No 300 Galle Road, Colombo 3. Website www.msi.edu.lk or www.msu.edu.my