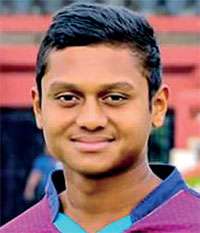 When the Sri Lanka Under-19 national squad was announced at the end of last year, it was a historic occasion for St. Anthony's College, Kandy. To have four Antonians in a national squad is unprecedented but it could have easily been five if this prodigiously talented all-rounder as a junior had progressed to the next level. Putting aside the disappointment of missing out on national honors, Asitha Wanninayake has started this season in fine style. Over the past three weeks, Asitha has given us a taste of what he can deliver, scoring his maiden century and three half-centuries in consecutive innings.
This is a far cry from what he had achieved in the three previous seasons, where he collectively managed just five fifties in over 50 innings. He has also shouldered greater responsibility with the ball this season, taking two five-wicket hauls in the first three games. In four games so far, all in February, Asitha's performances read 69 and 5 for 79 vs Dharmaraja, 63 vs Isipathana, 63 and 5 for 23, 3 for 40 vs Thurstan, and 111 not out vs St. Servatius Matara. Asitha's maiden century (111n.o.) came in 138 balls and included 14 fours and four sixes.
With Chamidu set to miss most of the season due to his involvement with the national framework, Asitha will be taking on the captaincy role which will surely spur him on for bigger and better things this season. Is he finally realising his true potential that he promised as a junior player? Looking back, Asitha had the distinction of representing the Sri Lanka Schools Cricket Association Under-15 side under Dunith Wellalage at the Tuanku Ja'afar Tournament held in Malaysia in April of 2018. He was outstanding with both bat and ball, especially in the semi-final and the final against Bangaladesh, where he was awarded the man-of-match award to carry Sri Lanka to the trophy.
Asitha made his First XI debut in the 2107/2018 season against Royal College as a 14-year-old on January 3 of 2018, replacing fellow off-spinner Kalhara Senaratne, who was unavailable due to injury. Although he made an immediate impression with the ball, with a match-bag of 5 for 42 (1/25 and 4/17) and capturing the scalp of national player Kamil Mishara as his maiden wicket. This remained as Asitha's solitary game that season. The spin duo of Nimnaka Jayathilaka and Kalhara ensured that Asitha's services were superfluous to the spin bowling resources.
In the initial games of the 2018/2019 season, Asitha struggled to make his mark due to a lack of opportunities. As Nimnaka and Kalhara had consolidated their partnership, along with an emerging Gihan Ebert, Asitha was hardly called upon to bowl. Even as a batter, he languished in the lower order for all of the third term games being required to bat only in two of the seven games. But, fortuitously for Asitha, the first choice opening batters failed to deliver during this period and he was elevated to face the new ball against Royal College at Katugastota at the dawn of 2019. Although he made a modest 23 and 31 in the two innings, opening with Chandimal Herath, this new role appeared to have given him a new lease of life.
Asitha made 44, 67 and 74 in the next three games, the last of which remained as his highest first XI score until today. This game against St. Peter's, Negombo was doubly memorable as this gave him the first opportunity to open with his hometown friend and debutant, Chamidu Wickremasinghe. The pair put on a rollicking stand of 144 runs with Chamidu scoring 102 in his debut First XI game. The pair went on to register five opening stands of over 50 runs for the season including stands of 92 and 67 in the two most crucial games of the season, quarter-finals and semi-finals respectively of the Division II tournament. Victories in these two games ensured our elevation to Division I after a lapse of five years.
The pair also put on 88 runs against Trinity at Katugastota in their debut Big Match, with Asitha scoring 54 and Chamidu 110. He finished the season with almost 600 runs in 19 innings that included four fifties. Inexplicably, Asitha's promise didn't materialise in the 2019/2020 season where he had a poor time with both bat and ball. He continued in his opening role for most of the third term games without success, which ended with a pair of specs against Royal before dropping down to No.5 for the rest of the season. An innings of 58 against Dharmaraja was his only half century along with nine scores between 20 and 43, totalling just under 400 runs in 21 innings.
Asitha also had a spell of 5 for 6 in the win against Maliyadeva amongst a paltry sum of 13 wickets for the season. Asitha didn't have his own way in the Covid-hit season in 2021 either, where he scored only 244 runs in 12 innings with a top score of 44 against Maris Stella, Negombo. He managed to capture 12 wickets, playing second fiddle to fellow off-spinner cum skipper Gihan Ebert and Nimnaka Jayathilaka. This year, however, Asitha has become the go-to person with both bat and ball and if his performances so far are anything to go by, he has no doubt lived up to the team's expectations. The shackles have finally been broken.