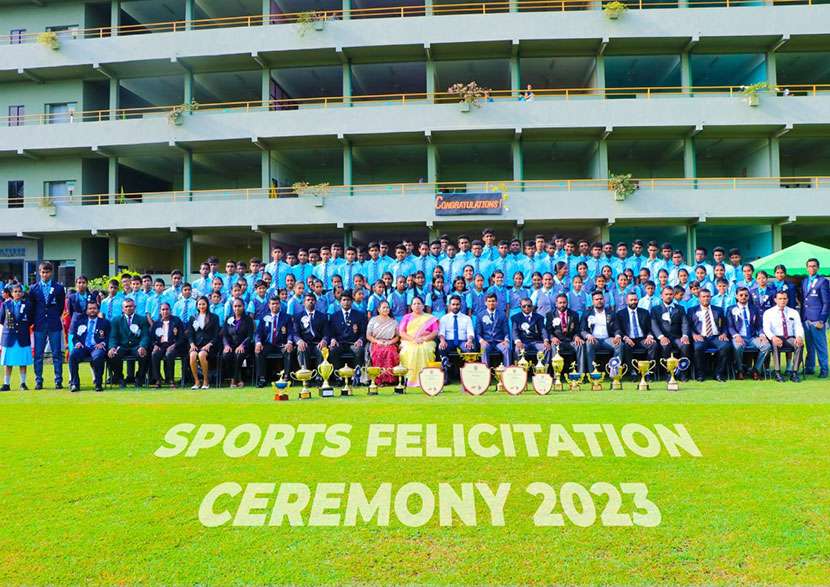 At a recently held ceremony, the champions of Lyceum International School Wattala athletic team were felicitated with much fanfare and honour. The students, who worked tirelessly and skillfully in various sporting disciplines, were recognized for their exceptional performance and contribution to the school's reputation.
The Principal Mrs. Stella Anton, Director of Sports Mr. Sameera Hewage who was the chief guest along with the Senior Management of Lyceum International Schools attended this event. They congratulated the students on their achievements and encouraged them to continue their pursuit of excellence in sports.
Steller sportsmanship in the fields of Athletics, Badminton, Basketball, Cricket, Choir, Karate, Net Ball, Table Tennis,Swimming, Soccer and Scrabble were well appreciated during this event. The felicitation covered a wide range of sporting events where students have performed and marked their achievements: All Island School Games - 2022, Sir John Tarbert Athletics Championship - 2022, Western Province Athletic Championship - 2022, ISAC 2023, National School Badminton tournament, Western Province Badminton Championship, All Island Badminton Championship (A Division), Inter International School Badminton Tournament, Inter International Basketball Tournament, National School All Island Basketball Tournament, Inter International School Basketball Tournament, Gampaha District Basketball Tournament, National Schools Games All Island Basketball Tournament, Sri Lanka School Cricket Division II ODI Cricket Tournament, Sri Lanka School Cricket Division II Cricket Tournament, International Schools Choir Competition, International Schools Karate Tournament, Inter International Schools Netball Tournament, Inter International Table Tennis Tournament, Inter International Schools Swimming Championship, Sri Lanka Schools Football Tournament, Inter International Scrabble Tournament - 2022.
The students were appreciated for their hard work and dedication. They also shared their experiences of participating in various sports events and competitions, expressing their gratitude to their teachers-in-charge, coaches and teammates for their support and encouragement. Overall, the felicitation ceremony was a memorable event, showcasing the schools' commitment to promoting the field of sports and recognizing the talents and remarkable achievements of its students.It is evident that these champions of the sports teams have set a high benchmark for the school, inspiring future generations to strive for excellence in sports and beyond.