Nawaloka College of Higher Studies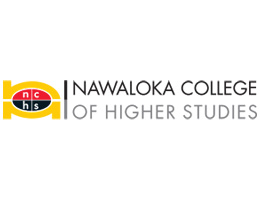 Nawaloka College of Higher Studies (NCHS) is a venture of Nawaloka Holdings, established with the commitment to provide the best in Higher Education, making it more accessible and affordable. Nawaloka Holdings is a highly reputed diversified conglomerate, best known for spearheading the private healthcare sector in Sri Lanka, and also having established a strong presence in the Construction, Manufacturing, Trading, Lubricant and Aviation sectors.
Located in the heart of Colombo, NCHS aspires to play a central role in making Sri Lanka an international education hub of Asia. At NCHS, our focus is on delivering excellence in education with the highest international standards, assuring only the best in your learning experience. This is reflected in the prestigious university qualifications offered, our well experienced academic faculty, the modern, state-of-the-art learning facilities as well as the friendly and supportive study environment. nchs students By opening up an array of prestigious and globally recognized higher education opportunities for Sri Lankan students, we aim to transform today's young minds into tomorrow's leaders.
Vision
Our vision is to become Sri Lanka's leading higher education provider.
Mission
Striving to provide students with a globally recognized qualification and thereby transform today's young minds into tomorrow's leaders.