Management and Science Institute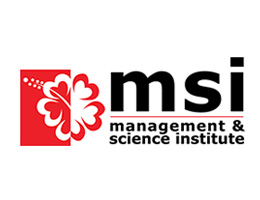 MSI is a fully affiliated higher educational establishment within the Management and science University, Malaysia and recognized by many other leading universities worldwide including those in the United Kingdom, Australia, Germany and Japan.

MSI focuses strongly on teaching, research and life – long learning in the following areas: Hospitality and Tourism Management, Event Management, Culinary Arts, Biomedical Science, Forensic Science, Information Technology, Accounting, Islamic Finance, Business Management & Logistic Management.

It is concerned with the holistic development of students through the incorporation of five major components across all curriculums. These components are language, information technology, entrepreneurship soft – skills, ethics and values.

Importance is given to quality teaching staff and equipping them with innovative and creative teaching methodologies. Besides providing international experience and exposure among students, extensive industrial training components are also blended into the programme of study to enhance graduates' employability.

In ensuring the students acquire sound knowledge and skills, personal coaching either by subject experts or assigned mentors are made available to the students throughout their studies at the institute. Complementing this, is the comprehensive array of activities ranging from home stay programmes, leadership camps, community engagement activities, sports, etc. are provided for students total development.