International College of Business & Technology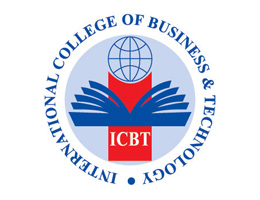 Our Vision
To be the leading Higher Education Provider in South Asia.
Our Mission
Our mission is together with internationally reputed Universities and Educational Institutes, to provide high quality educational programs, which will enhance the quality of the human resources available to the job markets at an affordable level, thereby contributing to the development of economy.
About ICBT
Founded in the year 2000, ICBT is the leading tertiary education providers in Sri Lanka with the largest number of students in the private sector higher education industry. Popularly known as ICBT Campus, delivers Certificate, Diplomas, Higher National Diplomas, pre University programs, Undergraduate programs and Masters level programs in association with leading Universities and educational service providers in UK, Australia, Thailand, India and Sweden. ICBT Campus has its purpose built state-of-the-art main Campus in Colombo 4 with branch campuses, Mount Lavinia, Kandy, Matara, Nugegoda, Galle, Kurunegala & Jaffna.University partners of ICBT Campus include Middlesex University UK, Cardiff Metropolitan University UK, Liverpool John Moores University UK, Sheffield Hallam University UK and Birmingham City University.The Campus comprises a strong panel of lecturers who are academically and professionally qualified adopting modern and structured coaching methods to provide a vibrant qualifications and knowledge to its students.ICBT Campus provides modern facilities such as libraries, modern air-conditioned lecture halls with latest teaching aids, modern computer labs, engineering labs, student recreation facilities and cafeteria, print shop and Wi Fi facilities to provide the best learning and teaching experience to students.ICBT Campus language center conducts a range of English programs. The language center is also an exam venue for British council English language programs including IELTS and Cambridge.Study Abroad center of ICBT Campus provides students free guidance and counseling services to students to obtain admissions to top universities of the world. ICBT Training and Testing Centre is the latest and the most modern facility in Colombo delivering range of International on-line exams.