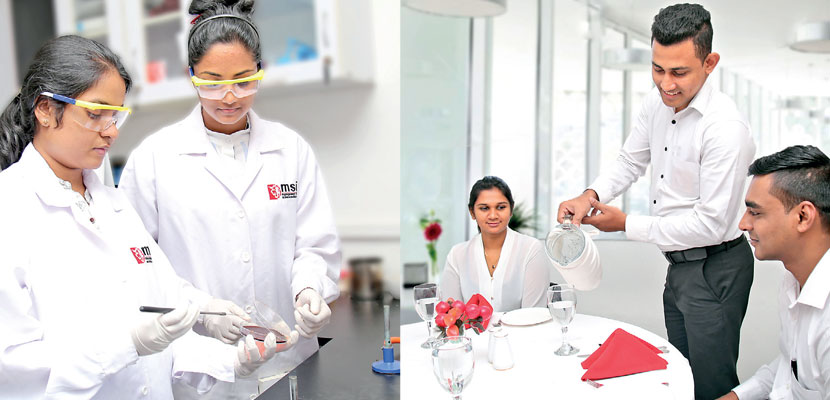 Committed towards ensuring a high rate of student's success: MSI is a fully affiliated higher educational establishment within the Management and Science University, Malaysia and recognised by many other leading universities worldwide including those in the United Kingdom, Australia, Germany and Japan. With its mission is to strive to mould degree holders of high moral values and distinction; committed to lifelong learning, leadership, integrity and professionalism, in response to the national and global needs, MSI offers diplomas in many disciplines that comprise of The Diploma in Business Management, The Diploma in Biomedical Science and The Diploma in Hospitality & Tourism Management and Diploma in Event Management.
The Diploma in Business Management: Structured to reflect the changing business world and crafted in conjunction with industry leaders to provide a firm foundation in business knowledge and practice, The Diploma in Business Management from MSI is designed to develop students to master, handle and meet the demands of the future business industry, equipping them to function more effectively as leaders in a business-driven economy. Consisting of core Business Management modules focused on exploring and understanding contemporary management with emphasis on action, observation, analysis and reflection it prepares candidates to work in the areas of management, administration, enterprise development, marketing, consultancy, and related fields.
Students learn the fundamentals of business such as the Practices of Management, Principles of Marketing, Finance, Business Communication, Economics, Business Ethics, and Industrial Operation . The programme provides students with concepts, frameworks, analytical, problem solving and research skills to enable them to operate confidently and effectively in a global environment characterized by constant change and requiring flexible and innovative responses at a professional level. Students will be also introduced and exposed to the many different aspects of international business both of an academic and practical context that is relevant to the current and future needs of the business landscape.
Students successfully completing the Diploma in Business Management will have the opportunity to progress to the Bachelor's (Hons.)Degree Programme in International Business at the Management and Science University (MSU) Colombo, Malaysia or at any of the partner universities worldwide. The Diploma in Biomedical Science: This programme is a platform for students to pursue career paths in biomedical, medicine or any health science related jobs, while introducing the student to relate to the latest development in the field emphasising the need for research and development. The curriculum integrates knowledge, attitude and skill components to meet modern day challenges as professional biomedical students.
The learning outcome of the Diploma in Biomedical Science offers knowledge and understanding of the specialist disciplines in biomedical science and their application to the laboratory based study of disease and diagnosis. The Diploma in Hospitality & Tourism Management: Leveraging on a unique learning opportunity in the combined disciplines of hospitality, tourism and management, students pursuing the programme will be exposed in the 'know how' and 'hands on' training in both the hospitality and tourism areas of practices. Diploma Holders will find ample opportunity in availing themselves to careers in hospitality and tourism industry as well as careers in internationally recognised hotels and travel operators. Besides providing international experience and exposure among students in their relevant subject areas, extensive industrial training components are also blended into all the programs of study to enhance graduates' employability.
Diploma in Event Management :
Event Management is a growing and dynamic profession that has seen significant growth in recent years. This has led to the emergence of event management as a professional skill being recognised and needed by the fast-growing services industry. With strategic thinking and critical analysis being emphasised throughout the programme and along with on-going exposure in the industry, the programme aims to provide a hands-on experience to students, thereby ensuring their employability, with students ending up being highly skilled and industry relevant, as the program has been designed to reflect industry expectation and standards.
Therefore, for students interested in learning how events are developed, planned and managed and maybe like the idea of even running their own events company, this Diploma programme is the ideal pathway that will equip them with the knowledge and skills needed for a successful career as an events specialist or to continue the studies to Bachelor(hones) Degree in Event management. To obtain more information on our Diploma , Degree programmes or transfer option please feel free to contact us on 0112576644, 0112576700, Hot Line 0770777880, email [email protected] or visit us at MSI Colombo No 300 Galle Road, Colombo 3,