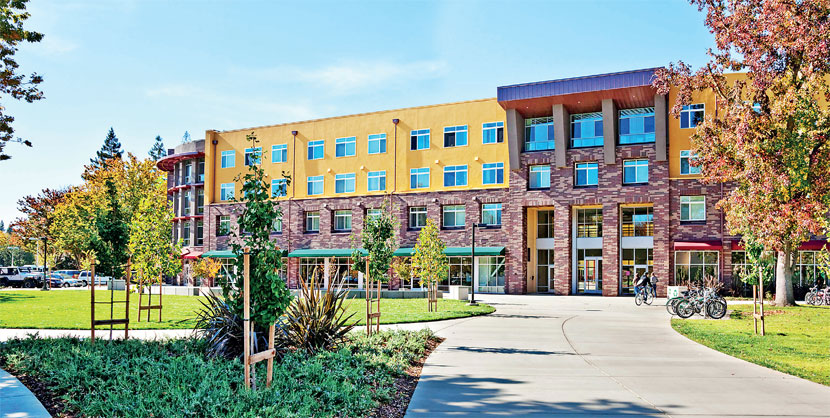 Sacramento State prepares its graduates for the world of work, thanks to educational programmes that emphasize practical applications in their fields. The students compete successfully on local, regional, state, national, and even international levels. From research and biotechnology competitions to worldwide events like the U.S. Department of Energy's Solar Decathlon 2015, in which Sac State was one of just 20 universities selected to compete, its dynamic students apply their education to excel at every level and meet every challenge. For instance, for over two decades, Sacramento State engineering students on the Hornet Racing team have spent their free time – often more than 50 hours a week – creating Formula SAE race cars to compete in collegiate events.
From Campus to Career
Sacramento State students get a wealth of hands-on experience in classrooms and campus laboratories that prepare them for successful careers. Those experiences range from solving simulated crimes and conducting groundbreaking research to nurturing a sickeningly smelly flower! For example, Sacramento State's Construction Management Department has a national reputation for winning tough competitions and for the consistent 100 percent job placement of its graduates. They go from the classroom to managing job sites throughout the region and beyond.
Making Your Dream a Reality
Sacramento State, takes pride in making higher education accessible to all. In order to make the vision a reality even in Sri Lanka, a partnership has been established together with Nawaloka College of Higher Studies – Swinburne University of Technology. The Partnership will enable Sri Lankan students to study at CSUMB after completing the first two years in Sri Lanka. This will eradicate most of the impediments that deter students from studying in America. Students who join NCHS will directly enroll and be recognized as students of CAL STATE Monterey Bay. They are given the option of choosing to do a degree of their choice on completion of the 2 years at NCHS.
Tailor made to suit your needs
The pathway programmes are specially designed to prepare students for success in their further studies. Students also have the flexibility to apply for these programmes with pending results. In order to provide ample opportunities for the students, NCHS has also affiliated with California State University San Marcos, California State University Bakersfield, California State University Monterey Bay, California State University Northridge, California State University Fresno, California State University Humboldt and the State University of New York at Albany. In addition to these prestigious affiliations, NCHS has also partnered with the Swinburne University of Technology.
Now Available at NCHS, Sri Lanka
Located in the heart of Colombo 03, NCHS offers the best facilities which include purposebuilt engineering and computer laboratories, a resource-oriented library, study areas and ample parking space and reputed academics to administer the programs. The same syllabus, methods of delivery and evaluation are followed, ensuring that the pathway programmes conducted at NCHS are of equal standard and quality. Student loan facilities at special interest rates are also on offer to help students pursue their higher education at NCHS.
If you wish to maximize on this fabulous opportunity and be a part of the prestigious degree pathway programs at NCHS, call 0777 799 997/ 011 5 899 998 or email [email protected] lk for more information.