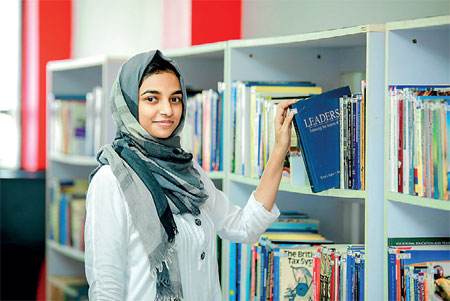 In Asia's 217th QS World Ranked University in Sri Lanka, the Management & Science University (MSU) Malaysia, since last 10 years proudly offers its award-winning industry recognized degrees in Sri Lanka though Management & Science Institute (MSI) in several key disciplines that are geared to meet the needs of the future business landscape. These include the bachelor's in international business (Hons); Bachelor of Biomedical Science (Hons), and the Bachelor's in hospitality & Tourism Management (Hons). Taught by an outstanding international faculty and industry experts, who guide students to grow both personally and professionally, all degrees are designed with a blend of theory and practice.
MSU degrees are currently well placed amongst employers in the market, which in turn ensures enhanced employment opportunities for its graduates The Biomedical science has become vital in many health-related areas such as genetics, reproduction, cellular and molecular structure of diseases, pharmacology and pathology. With these new advances emerging in the biomedical field, there is an increased demand for qualified scientists to fill the gap between human resources and the research requirement in the industry. With the objective of producing graduates with an in-depth knowledge and understanding of all major areas in this fast escalating field of work, the Management and Science University (MSU) having a long-standing reputation of excellence in biomedical science teaching is internationally recognised for its strength within the field.
The Biomedical Degree from MSU is available for Sri Lankan students through MSI Colombo Learning Centre. The programme is specifically designed for those wish to gain employment as biomedical scientists in health sector or any other related sectors like food industry, microbiology, pharmacology etc. Covering both theoretical knowledge and practical skills required across a diverse range of areas in biomedical science; the programme imparts knowledge in basic biology to specific subject areas and provides a thorough understanding of human biology and health, with an emphasis on causes, diagnosis and treatment of disease at the molecular and cellular levels, and all areas of human physiology and cell biology and genetics. Students will also develop practical and research skills through a wide-ranging practical experience in a laboratory environment under the guidance of MSI's worldclass lecturers.
To support their studies, students will have access to modern, wellequipped laboratories with state-of-the-art facilities and the support of laboratory specialists and IT technicians. Taught by a team of enthusiastic academic professionals, who are also active researchers. The delivery of knowledge comprises of a range of methods including lectures, seminars, work shadowing placements, group discussions presentations, case studies, industrial visits and laboratory practical's. The knowledge and experiential skills that students receive on this course, upon graduation will pave the way for them for a successful career in Medical research, in Hospital and Laboratories, Universities, Public health services, Pharmaceutical industry and many more related industries.
Listen to our students who did their Biomedical Science degree at MSI, Colombo. Asma Sheriff (A current student) "At this point in my programme, I cannot express how happy I am that I chose MSI for my Degree in Biomedical Science. Supportive administrative team and my extremely knowledgeable lecturers made me into professional in Biomedical Science field nurturing me with knowledge and skills. I feel that I will be fully prepared for my future in healthcare and I am happy MSI offers a pathway up to PhD in Healthcare sector". Lakshani Rathnayake (Biomedical graduate) "Attending MSI, Colombo was one of the best decisions I have ever made.
The staff was very helpful and was always there for me whenever I needed them, even after my graduation. I got selected to work as a Health coordinator in a leading International organisation which I think will be a turning point in my professional life. "Choose a carrier you love so that you feel you are not working". Thank you MSI for helping me choose the best pathway in my life" Should you wish to have any further information on the Biomedical Science programmes offed at MSU though Management & Science Institute Colombo or any other Diploma and (hons) Degree programs, please feel free to contact us on 0112576644, 0112576700, Hot Line 0770777880, email [email protected] , www.msi.edu,lk or visiting MSI Colombo at, No 300 Galle Road, Colombo 03.