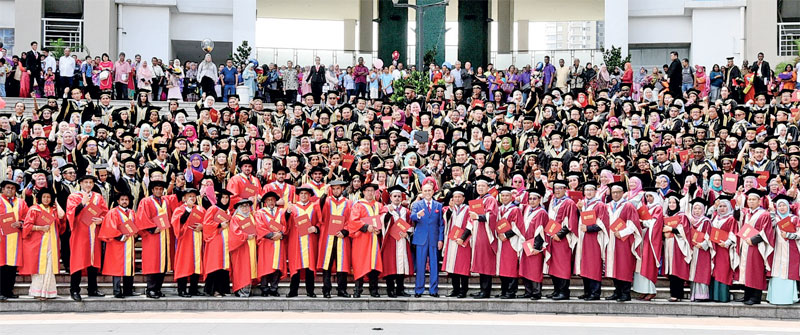 Management and Science University (MSU) is In Asia's 217th QS World Ranked University, which is one of the leading universities in Malaysia that established its learning centre in Colombo. MSU is gaining prominence as a provider of quality education in the Asian region in the areas of Hospitality and Tourism, Medicine, Health, Life, Information sciences and Business management. Geared towards academic excellence, providing academic programmes of international repute is the mainstay of MSU's existence. It is now well – positioned to be one of the leading universities in Malaysia providing industry relevant Diploma, bachelor's degree and Postgraduate courses up to PhD and other research disciplines.
The Postgraduate programmes offered by the MSU include: Master of Business Administration (MBA) with specializations in Project Management, Healthcare Management, International Business, Global Marketing and Entrepreneurship & Innovation in Hospitality & Tourism Management. Doctor of Philosophy (Ph.D) at Malaysian Campus, the areas of research are International business, Ecommerce, HRM, Marketing, ICT, MI , Multimedia technology, Accounting & Finance ,Business Computing, Strategic management & Globalization & Customer Relationship Management. (MSU) offers you a dynamic Master of Business Administration (MBA) programme designed for professionals working in either the private or public sector - or graduates who want to advance their career through an impeccable business programme tailored to their needs.
MSU offer students an experiential learning in cross-cultural communications, the opportunity to build a global network and the possibility to create future international career opportunities. In addition, students will have the opportunities to develop management skills and techniques, to obtain strategic orientation and to implement the strategies formulated. These include networking events with industrial leaders, talks by CEOs, industrial visits, management games, case study approaches, video presentations, on-line interaction and many other relevant approaches. In addition, it will help students to develop the skills in leadership, entrepreneurship, strategic management and decision making and trains them to become successful corporate leaders and entrepreneurs in the most competitive markets. Upon completion of the programme, students will have a broad understanding of their specialized areas. In addition to the MBA programme, MSU also offers a Ph.D that qualifies students to a range of positions both in the private and public sector.
The PhD programme offers an intellectually demanding doctoral program for a small select group of highpotential applicants, who already have a breadth of knowledge in the relevant areas of business and have a strong interest in academic research. The primary aim of the doctoral program is to train students to become an academic researcher capable of contributing on the cutting edge of research in Management, particularly within your area of expertise. In addition to the postgraduate programmes offered by MSU, MSU also offers key degree programmes that students can complete in Sri Lanka, MSU Malaysia or partner Universities worldwide including, Australia, UK, Japan, Germany and Ireland. MSU through their Local Representative, Management & Science Institute (MSI) offers Students a range of Diploma programmes which help develop knowledge and skills of students while preparing them to obtain employment or continue their higher studies. MSI currently offers diploma programmes in a wide range of interests including Hospitality and Tourism Management, Biomedical Science, Event Management, Business Management, Accounting, Dialysis Technology.
Further information on the programmes can be obtained by contacting 0112576644, 0112576700, Hot Line 0770777880, email [email protected] or visiting Management & Science Institute (MSI) at, No 300 Galle Road, Colombo 3.