4 degree programmes at IIT recognized by the global IT body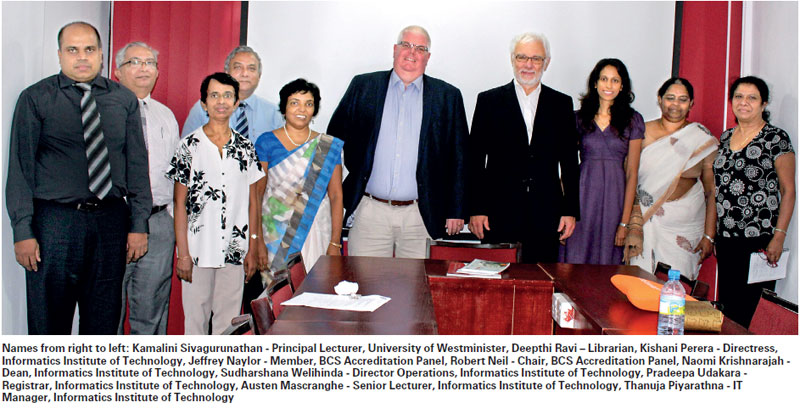 Informatics Institute of Technology (IIT), the pioneer in British higher education in Sri Lanka, has become the first institute in Sri Lanka to provide degree programmes with British Computer Society (BCS) accreditation. Four programmes offered by IIT in collaboration with University of Westminsterare accredited by BCS, The Chartered Institute for IT. They are BSc/BEng (Hons) in Software Engineering, BSc (Hons) in Computer Science, BSc (Hons) in Business Information Systems and MSc Advanced Software Engineering. Due to this accreditation, graduates who successfully complete any of the 4 degrees will fully meet the educational requirement for Chartered IT Professional (CITP) registration.
While they would be obligated to meet relevant professional experience requirements, graduates from these accredited programmes will benefit from an accelerated route to CITP status. These graduates are also eligible for professional membership of BCS (MBCS) at the point they graduate. Additionally, graduates who successfully complete the Computer Science and Software Engineering degrees will be on an accelerated path to Chartered or Incorporated Engineer (CEng or IEng) status. The BCS accreditation of degrees is a globally-accepted benchmark of the standard of higher education programmes and their contribution to the IT profession. It provides an indicator of quality to students and employers and also provides independent recognition for the institutions that offer them. IIT was given accreditation after an extensive evaluation process that took several months.
The BCS looks at all aspects of a higher education institute in detail, such as faculty, resources, teaching material and coursework and also conducts independent interviews with lecturers and students during their final visit prior to giving the accredited status. BCS is the Chartered Institute for IT with a mission to enable the information society. The organisation promotes wider social and economic progress through the advancement of information technology science and practice. It helps people, businesses and society at large to improve their skills and knowledge in the field of IT by setting the standards of excellence for course content, training, examinations and certification systems. As the global awarding body for IT qualifications and certifications, the BCS has 70,000 members around the world including IT practitioners, businesses, academics and students.
Sharing her views on the accreditation, Naomi Krishnarajah – Dean of IIT stated, "We are privileged to have our degree programmes recognised by the British Computer Society. This clearly underscores the high quality of theIT degree programmes that we provide at IIT. The professional values and benchmark standards BCS set make our graduates stand out from the crowd and boost their marketability in an increasingly competitive business environment." Established in 1990, IIT is an award-winning campus offering internal postgraduate and undergraduate degrees from the University of Westminster (UOW) - UK, Robert Gordon University - UK and Canterbury Christ Church University - UK. IIT has played a pivotal role in strengthening the IT sector in Sri Lanka over the years by producing world class graduates. Since inception, IIT has produced over 3,000 graduates who are excelling in over 250 organizations around the globe.