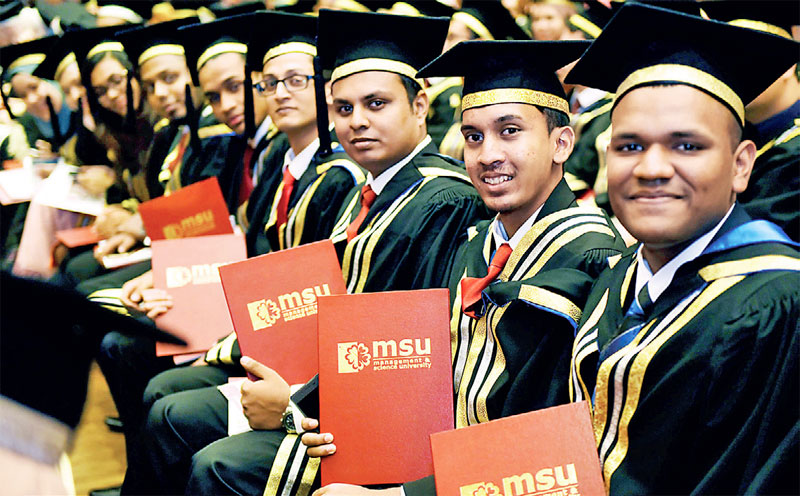 Management & Science University (MSU) is one of Malaysia's top universities, with a focus on developing and delivering quality human capital in national and global critical- need areas of business. With their meticulously crafted curriculums, the University's programs of study are among the best in the region, producing graduates that are a popular pick among employers in top notch companies. The recent QS World Universities Ranking 2018 Places Management and Science University (MSU) 217th in the QS Asia Ranking 2018, the inaugural entry ranks Management and Science University (MSU) in the top 1.8% among Asia's best universities.
The MBA of MSU is designed to allow students to take their leadership skills to the next level and in turn if desired to enable the chance to fast track to a PhD. With real world experiences in every class, and with lessons taught by a team of dedicated professionals, MSU ensures that their students learn to think critically and communicate effectively. Tailored to provide the most comprehensive experience, students will be taught to explore the strategies and theoretical foundations of business administration and learn the essential tools needed to be effective thoughtleaders in today's rapidly changing corporate, and public sectors.
Students will work in task-oriented teams, drawing upon the experience and skills of their lecturers to solve challenging business problems related to today's managerial challenges, as they progress throughout the degree. The ideas sparked and the doors opened by this MBA Program will equip students to make an impact wherever their career path takes them to and also seamlessly transfer to a globally accepted PhD from MSU, which is an internationally recognized research degree that provides a pathway to an academic or research career. The PhD program imparts advanced skills in teaching, research, managerial, entrepreneurial, and strategic knowledge and the skills necessary for leading and managing all facets of contemporary organizations.
Expertise and skills to be an effective educator and researcher with the ability to advance business theory and practice, and examine any formal organization and discern its strengths, weaknesses, opportunities and threats, manage change and be able to handle the challenges of technological, organizational and global changes shaping modern day organizations are also leanings that graduates will gain form the PhD. Creativity, analytical thinking, critical analysis, and innovative problem-solving as well as competencies to effectively disseminate research outcomes to a variety of audiences using highly developed communication skills and to synthesize, apply and analyse existing and new knowledge in one or more discipline areas to develop new concepts or interpretations through engagement in ethical research, critical reflection, continuous evaluation and demonstration of research skills are also takeaways from the program.
The PhD will be awarded on the basis of a thesis prepared under supervision that makes an original, significant and extensive contribution to knowledge and understanding in the relevant field of study, as judged by independent experts applying accepted contemporary international standards. In addition to the MBA and Ph.D, MSU through their Local Representative, Management and Science Institute (MSI) offers a range of Diploma programs to students which will help to develop their knowledge and skills while preparing them to obtain employment or continue their higher studies. MSI currently offers diploma programs in a wide range of interests including Hospitality and Tourism Management, Biomedical Science, Event Management, Business Management, Accounting.
If you wish to have further information on MBA & PhD programme please contact Management and Science Institute (MSI at No 300 Galle Road, Colombo 3, Tel 0112576644, 0112576700, Hot Line 0770777880, email to en[email protected] or visit us on www.msu.edu.my or www.msi.edu.lk