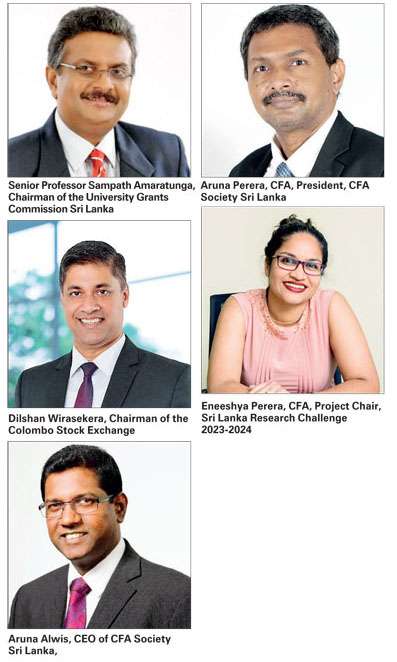 Colombo, Sri Lanka – CFA Society Sri Lanka is pleased to announce the commencement of the local leg of the CFA Institute Global Research Challenge, as officially inaugurated at the Colombo Stock Exchange on Wednesday, 13 September 2023. The Research Challenge is an annual educational initiative designed to promote best and ethical practices in equity research to students from universities worldwide through hands-on mentoring and intensive training. The response for this year's challenge has been overwhelming with 25 applications received. During the initial stage of the upcoming local round, teams consisting of three to five students from Sri Lanka's prestigious universities, representing both public and private sectors, will vie for a chance to advance to the final round of the competition by submitting a research report.
The top four teams from this stage will then compete for a coveted position in the sub-regional competition. The culmination of this extraordinary journey will reach its peak at the Global Final scheduled for May 2024. Aruna Perera, CFA, President of CFA Society Sri Lanka, expressed enthusiastic sentiments, saying, "We are happy to be hosting this prestigious global competition for the 17th consecutive year. The CFA Institute Research Challenge serves as a robust evaluation of students' prowess in equity research and valuation, investment report crafting, and presentation acumen. This annual educational endeavour fosters a culture of excellence in equity research among the budding financial analysts of tomorrow.
It presents a unique opportunity for Sri Lankan university students to partake in this global competition, a pursuit that will undoubtedly enhance their careers." Senior Professor Sampath Amaratunga, Chairman of the University Grants Commission Sri Lanka, extended his gratitude to CFA Society Sri Lanka, whilst also stating that, "this initiative offers an exceptional opportunity for Sri Lankan undergraduate students to engage in a worldwide competition centered around creating and presenting an equity research report. It enables them to showcase their skills on an international platform while promoting the adoption of top-notch equity research practices, which are crucial for our country's progress.
I commend CFA Society Sri Lanka and CFA Institute for orchestrating this global competition and encourage all universities in Sri Lanka to seize this extraordinary opportunity." Eneeshya Perera, CFA, Project Chair, articulated the demands of the challenge and the many benefits associated through participation, stating, "Participating in this competition demands extensive dedication, with the participating teams benefiting from invaluable guidance provided by industry mentors and faculty advisors. They delve into the meticulous analysis of a publicly traded company, culminating in the creation of a professional research report. Subsequently, they are tasked with presenting their research findings and recommendations before a distinguished panel of experts." Dilshan Wirasekera, Chairman of the Colombo Stock Exchange, remarked on their partnership, saying, "We are honoured to come on board as a partner for the CFA Society Sri Lanka.
This competition aligns closely with our operations and underscores our commitment to fostering the growth and development of finance professionals in Sri Lanka. Supporting this initiative not only reflects our dedication to capital markets but also our belief in the potential of the next generation of analysts and investors. We look forward to witnessing the exceptional talent and innovation that this competition will undoubtedly showcase." Aruna Alwis, CEO of CFA Society Sri Lanka, emphasized the global reach of the competition, stating, "Last year, the CFA Institute Research Challenge attracted over 6,200 students from over 1,000 universities spanning nearly 100 countries. This remarkable endeavour enlisted the support of over 3,000 volunteers, engaged 150-plus CFA Societies worldwide, and witnessed 119 local challenges. The CFA Institute Research Challenge is composed of several pivotal components: thorough equity research, professional report writing, and persuasive presentation skills."