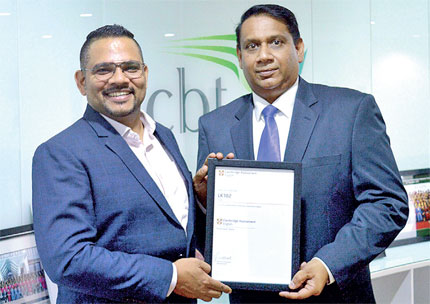 Australian College of Business and Technology (ACBT), Colombo; is a renowned and certified Cambridge Test Center since 2016 which has been awarded by Cambridge Assessment English, UK for offering internationally recognized English Language qualifications of life-time validity. Prestigious English language certifications such as C1 Advanced, BEC and TKT ; awarded by Cambridge Assessment English, UK, a part of the University of Cambridge; cater to a wide range of requirements, ideal for those who seek additional qualifications to enhance their academic and professional profiles with a world-renowned UK qualification.
As a pioneer in the field of private tertiary education in Sri Lanka, ACBT has partnered with Cambridge Assessment English, UK to expand its portfolio of programmes by delivering the muchneeded, globally accredited English Language qualifications for Sri Lankans engaged in different fields of work and study. These qualifications are accepted by over 20,000 universities, employers and governments worldwide and can open doors to higher education and improve employment opportunities locally and internationally.
Cambridge C1 Advanced (CAE) is a prestigious English language qualification that proves one's language skills for higher education and work. This is accepted by more than 8,000 educational institutions, businesses and government departments around the world. As a formally accepted indicator of one's ability to converse confidently in English in an international environment, it is a passport to study and work in English-speaking countries. As a qualification that does not expire like other proficiency tests, C1 Advanced is accepted by 100% UK and Australian universities and will be a license for students who seek to broaden their horizons with overseas education.
Cambridge Business Certificates (BEC) help professionals to prove their English Language skills to function effectively in an international workplace. It would enhance the employees' opportunities to progress in career as this is a mark of excellence in communication. BEC qualification is also ideal for students who are preparing for the world of work. Since the BEC tests are based on English language used in authentic business scenarios, this is an opportunity for candidates to improve their communicative skills required for work. Teaching Knowledge Test (TKT) is a flexible series of modular teaching qualifications, which tests knowledge in specific areas of English language teaching.
As these qualifications are based on teaching methodologies, effective use of resources, lesson planning and classroom management, the test is ideal both for individuals who intend to pursue a career in teaching as well as for experienced teachers, to prove their teaching knowledge with a globally recognised teaching qualification offered by Cambridge Assessment, UK. ACBT also conducts preparation courses for the Cambridge exams thereby facilitating candidates who wish to take the above tests. Other learning resources available at the centre also benefit students with a more comprehensive exam preparation process.
All ACBT English lecturers possess Cambridge teaching qualifications in addition to years of experience and other local and international qualifications, thus making them the rightful authorities to coach students to perform better and accomplish high score at these examinations. Exams and preparation courses are held monthly, allowing candidates more opportunities to sit for the exams more frequently. Overall, taking Cambridge qualifications with ACBT allows candidates to receive a world-renowned qualification in an international testing environment together with a host of other added benefits.
For more information about Cambridge English tests at ACBT, please contact 0112565511, 0770 312 374, 0773 999 594 or visit ACBT Campuses in Colombo 3, Colombo 5, Kandy (0812 205800) or Galle (0912 244544)