Australian College of Business and Technology (ACBT), the pioneer in Australian higher education in the country, has proudly partnered with Middlesex University, UK to provide UK education in Sri Lanka. A range of degree programmes in Business and IT; designed, assessed and quality assured by Middlesex University; is now available at ACBT.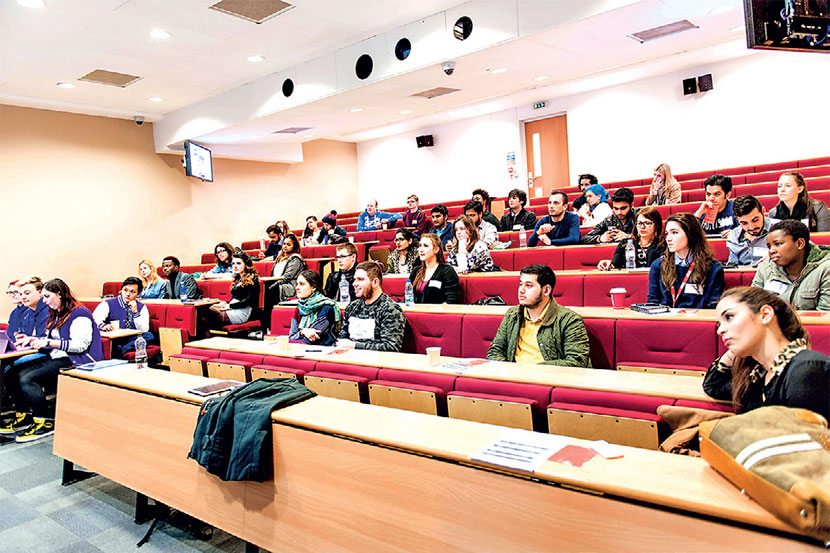 In today's economy, knowledge in the field of Business opens up many doors to success. Whether you are an employee of an organisation or an owner of a start-up, having an internationally recognised qualification in Business will undoubtedly give you that edge needed to thrive in the business world. Middlesex University of fers the finest qualifications in Business: BA (Hons) International Business Administration & BA (Hons) Business Management (Finance), which are tailor-made to strengthen the knowledge and skills needed to flourish in your career.
BA (Hons) International Business Administration
Through this flexible course, you will build the essential business and administration skills to work across a wide range of private and public sector companies and learn to execute your knowledge with confidence in a global environment. With the support of expert tutors who bring extensive international experience drawn from across the business disciplines, you will study the environment of international business, and learn how stakeholders and partners engage in an international, intercultural context. Alongside building effective business skills, you will develop your knowledge of organisations; their functions, structure and management. Through structured modules, you will learn to interpret business reports and evaluate performance, and build knowledge of key management tools and techniques within a global context.
BA (Hons) Business Management (Finance)
The course is aimed at ambitious students who want to broaden their career options with a specialism in Finance. You will develop key business skills, knowledge and experience in order to excel in a management career. Additionally, you will focus on building financial knowledge and skills and will learn the role of Accounting within organisations. Companies and organisations require graduates who have expert business knowledge, who can also demonstrate analytical and problem solving skills, together with the professional acumen to deal with challenges in a fast-paced business environment. Your Business Management (Finance) Degree will leave you ideally placed to begin working in a wide range of business management - finance specific roles in prestigious international banks and financial institutions.
Learner-Friendly 4- Modules Structure
The final year of the Middlesex University degree consists of only 4 modules and they allow you to receive an in depth knowledge with more time to learn a particular subject matter. You are expected to complete 3 compulsory modules and 1 optional module during your final year in order to successfully achieve the respective degree qualification.
Career Opportunities
Middlesex University degree prepares students for a wide range of careers. As graduates, students will have excellent career prospects and the range of potential employers will be vast across the private, public and not-for-profit sectors. There is also the potential to work as a selfemployed director of your own business. Upon graduation you will be highly sought after by employers due to your understanding of global business operations as well as your analytical, problem-solving and logical thinking skills. You will be well prepared to work in an international firm, in Sri Lanka or abroad.
Study at ACBT
ACBT is the pioneer in Australian Higher Education in Sri Lanka since 1998, and partnered by world renowned Navitas group, with 130 colleges around the world in over 31 countries. Expanding its wings, ACBT now offers UK qualifications at its state-of-the-art campus equipped with modern facilities, ideal learning environment and a carefully chosen, experienced lecture panel. ACBT offers an education with cutting-edge facilities to gain knowledge, skills and self-confidence to meet the challenges of rapid global integration. Abiding by rules and regulations of the Middlesex University, ACBT is committed to deliver programmes that are equal to the international standards. ACBT places the learner at the heart of what they do. Dedicated staff members will guide and assist students throughout their journey with ACBT. Enrolments are now open for the Middlesex University degree programmes starting in September 2019 at ACBT. Students can join the university 1st year after A/Ls or join the final year with a Level 5 qualification.
For more information, please call ACBT on 0117699499 or visit 32C, Dickmans Road, Colombo 05.