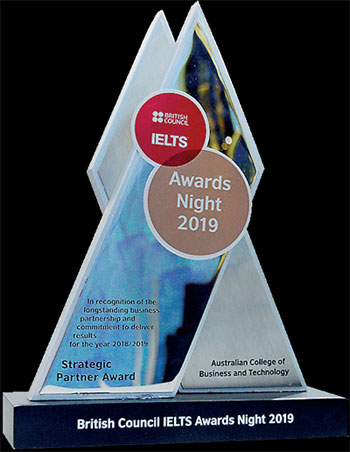 Australian College of Business and Technology (ACBT),with its IELTS experience spanning nearly 2 decades, once again became the proud winner of the most prestigious accolade of "Strategic Partner of the Year" at the British Council IELTS Awards Night held at Kingsbury Hotel on 31st July 2019. Since its affiliation with the British Council to deliver IELTS exam in Sri Lanka, ACBT has always secured recognition as the best test venueorthe best performing partner of the year at this annual awards distribution organised by the British Council.
As Platinum Partner of the British Council partner network to deliver IELTS, ACBT Campuses in Colombo, Kandy and Galle offer a full-fledged IELTS experience to the candidates from the point of registration to the end of the test. All ACBT campuses are authorised test venues to conduct IELTS tests while ACBT Kandy and Colombo also operate as Computer Delivered IELTS test centres. As one of the most successful and well established international higher education providers in the country, ACBT provides Australian as well as British undergraduate qualifications to students.
English Department of ACBT, well equipped with experience, expertise, as well as the up to date learning and teaching resources, provides students assistance to fulfil the much needed English language requisites to either enroll in foreign degree programmes, migrate to foreign countries or simply to improve their English language proficiency. Among the English language courses offered by the English Department of ACBT for an array of international English Language assessments, IELTS is definitely its forte.