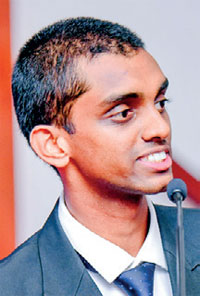 Making a commitment to environmental sustainability count in his current role, SLIIT Almnni Binura Perera has embraced the challenges of tomorrow and is working towards driving positive change. As a Mechanical Engineer for Brandix Apparel Limited, Binura is part of the central sustainability team of Brandix Apparel Limited, managing energy performance and carbon footprint of the Group's 30 + facilities located in India, Sri Lanka and Bangladesh. Graduating from SLIIT in 2017, with a first class in the field of Mechanical Engineering, the Institute's firm foundation and environment for academic excellence have proven successful formulae for his achievements.
Dedicated in contributing towards tackling challenging environmental issues, Binura has been able to pioneer several sustainable engineering initiatives of the Group aligned with Brandix's pledge of being carbon neutral. Under the guidance of Iresha Somarathna – Group Head of Engineering, Binura has been able to carry out projects related to air conditioning, pneumatic, steam and lighting systems across the Group. Sri Lanka's first ever direct drive AHU (Air Handling Unit) installation leading to a most energy efficient central air conditioning system in the region marks an important milestone in his tenure of two years at Brandix.
He and his team further worked towards obtaining World Green Building Council (WGBC) recognition for the world's first carbon neutral apparel manufacturing facility and also achieved the World's 2nd Highest LEED Platinum rated facility, awarded by the US Green Building Council (USGBC) for the Brandix Batticaloa factory. "In 2017, the apparel exports of Sri Lanka accounted to more than 44% of the total industrial exports of Sri Lanka and it is a great privilege to have been a part of the main economic stabilizer of the country.
What satisfies me more is that being able to be directly involved in creating sustainable engineering benchmarks both in local and international context at a very early stage of my career", Binura added. He demonstrated exceptional academic excellence during his tenure at SLIIT securing the award for the outstanding performer of the department in the convocation held in 2017, and being recognized in the Dean's list multiple times. Showcasing his vision as a leader of tomorrow, a key highlight of his academic career was the opportunity to carry out a collaborative research with Bentley Motors UK in improving vibrational characteristics of the suspension systems of super luxury automobiles to increase the ride comfort. In 2017, as the Chairperson of the CIMA Mind Challenge PRO 2017, Binura was able to introduce a novel concept to Sri Lankan business students, titled a 'Corporate Business Case Hackathon'.
His initiative drew support from the Warwick Business School, UK with the Colombo Stock Exchange (CSE) joining as a strategic partner for the event. Binura is an Associate Member of the Institute of Mechanical Engineers UK, (IMechE) and a passed Finalist of the Chartered Institute of Management Accountants UK, (CIMA). He served as Secretary of CIMA Sri Lanka Students' Society in 2016 – 2017, a body that represents a vibrant 14,000+ student fraternity. Binura engages in several extracurricular and volunteering activities such as Tedx Colombo. He served as an executive committee member of the IMeche student chapter of SLIIT in 2015/16 and was a member of the SLIIT Gavel Club. Whilst at university, he emerged a finalist of the business proposal contest CIMA Launchpad 2014 and became a Finalist of the MIT USA - Global Statup Labs 2013. He is a proud alumnus of S. Thomas' College, Mount Lavinia and Vidura College, Colombo.