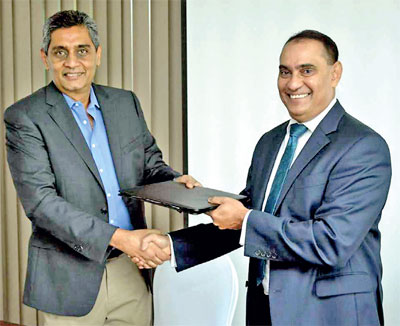 In recognition of its researchrich environment, approach and culture where students are a part of an active and committed learning community together with dedicated, dynamic academic staff, SLIIT as the nation's largest degree awarding institute has received several impressive grants over Rs. 125 million. Academic staff members attached to faculties at SLIIT were the recipient of several research grants from the World Bank funded Accelerating Higher Education Expansion and Development programme (AHEAD). Dedicated towards expanding, diversifying and developing the higher education sector in Sri Lanka, SLIIT received grants amounting to Rs 42.5 million this year for proposals allocated to the 'Promote Research, Development and Innovation' segment of the AHEAD programme.
SLIIT secured a total of four AHEAD research grants of which three were for Development Oriented Research (DOR) and one for Research, Innovation and Commercialization (RIC) projects. Notably this is the maximum number that can be allocated to one institute as per the AHEAD programme rules In a pioneering venture, SLIIT and Bentley Motors Ltd, UK's largest luxury car manufacturer, set up a collaborative consultancy to conduct engineering analysis in several aspects of Bentley products. Over a period of four years, the project attracted over Rs. 43 million in research grants.
Conducted through the Bentley CAE Research Unit via the Faculty of Engineering, SLIIT, the work is related to analysing their vehicle systems to find solutions for current development problems particularly in vehicle dynamics, comfort (primary and secondary ride) and vibrations. Furthermore, through this venture, SLIIT students have benefitted as a result of the knowledge transfer gained in undergraduate and postgraduate programmes. "At SLIIT, we firmly believe that innovation will power the knowledge economy of the coming decades and the importance of integrating research with teaching cannot be underestimated.
Through our efforts we have produced a dynamic platform in which researchers/ teachers can share experiences of projects bringing research into teaching. Thus students can be part of a team of researchers and learn how the subject is applied in practice and experience how research is conducted within their field," Prof. Lalith Gamage, Vice Chancellor/CEO, SLIIT, noted. Facilitating ground-breaking research to assist the development of the country, SLIIT has received a research grant worth more than Rs. 22 million from the Metallurgical Corporation of China Ltd (MCC). MCC is recognised as an eminent Chinese construction entity working in Sri Lanka on projects such as the Colombo - Katunayake Expressway, the ongoing Outer Circular Highway and the Central Expressway Project.
This grant by MCC is to fund research in the Faculty of Engineering on properties of highly compressible and weak peaty/organic soil deposits in Sri Lanka, and their improvement as a foundation layer for construction of infrastructure facilities such as highways and other structures. Venturing into financial research, SLIIT has also attracted a grant worth Rs. 12 million from Capital Alliance Limited (CAL). The CAL Project sought through financial data analytics to learn from past financial data to make useful predictions about key financial indicators. The objective being to apply knowledge gained from predictions to be applied to make prudent investment decisions.
The project has funded a research laboratory working space as its platform where MPhil/PhD students work and are directed by their respective academic supervisors and the investigators of the project. Collaborating through a Private Public Partnership, SLIIT has received funding of Rs 4.7 million to conduct a study based on a research dissertation to develop a fibrous grout that can reduce the seepage and enhance washability of construction grout. Titled 'A Composition and method of seepage control using fibrous material', the research is jointly funded by the National Research Council and a leading geotechnical engineering firm. This project provides the research platform for an MPhil student.
SLIIT also received a grant of Rs 3 million from the National Research Council recently. Awarded to the Department of Civil Engineering, Faculty of Engineering, the grant funds research toward the ecological rehabilitation of canals in Colombo, designed to harmonize flood control and physical heterogeneity. Contributing towards initiatives to ensure infrastructure sustainability within Sri Lanka, SLIIT's Department of Civil Engineering with support from the Department of Electrical and Electronic Engineering are conducting an investigator driven research to 'develop a model to simulate the sustainability of infrastructure using a life cycle approach'. The National Research Council funded grant scheme received for this purposes totals Rs 2.25 million. The studies have drawn support from the National Cleaner Production Center and the Sri Lanka Green Building Council as research partners. Beneficiaries of the proposed model include local infrastructure projects where the tool can be used design through construction and operation to the demolition stage and also for applicants seeking green certification.