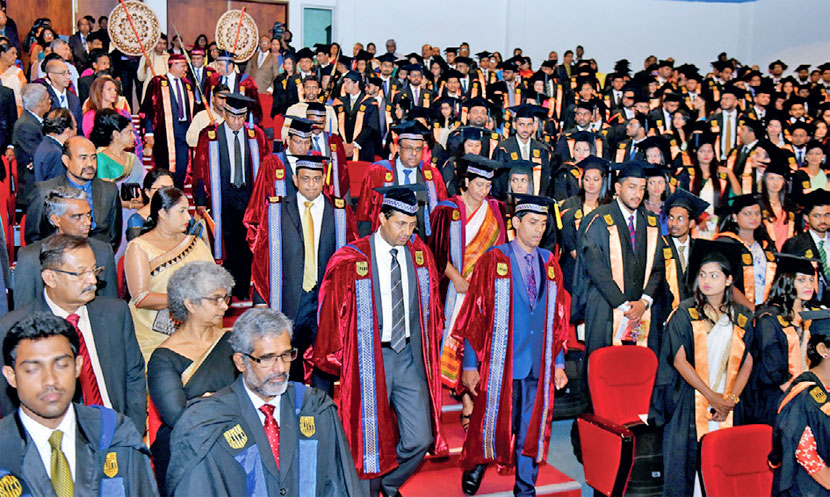 SLIIT as the nation's largest degree awarding institute has disbursed over Rs 50 million worth of scholarships during 2017/2018 helping talented students who have showcased great potential to achieve their academic goals. Aligned to SLIIT's sustained efforts towards supporting deserving youth through financial assistance, to-date the institute has awarded over Rs. 164 million during the past 15 years. Since its inception, SLIIT Scholarship Scheme has offered an impressive volume of scholarships assisting more than 2600 students.
"Our scholarships contribute towards SLIIT's longstanding commitment in attracting and motivating deserving exceptional Students who are willing to study at SLIIT. This year's scholarship programme opens doors for more students to experience what SLIIT has to offer, and in turn, helping students shape their future," noted Prof. Lakshman Ratnayake, Chairman SLIIT. In recognition of students' extraordinary achievements, SLIIT has established scholarships based on set criteria for gifted students to enrich their learning experiences.
Students who have performed exceptionally well in their A/L's are eligible to receive scholarships. These high performers receive a full tuition fee waiver, throughout their four-year term at SLIIT. For students who have performed well in extracurricular activities when at school and showcased their abilities at an international or national level too can benefit from SLIIT scholarships. Helping these remarkable students who displayed their talents through extra-curricular activities, the SLIIT scholarship programme ensures a prestigious higher education with mentoring support and the easing of financial burdens for both students and their families.
SLIIT scholarships also benefit students who wish to complete the degree within the exact time-frame and duration of the study course. SLIIT guarantees completing degree programmes on the exact date stipulated without inconveniencing students or families. Students who excel in their academic performance in a given semester in their study programmes while at SLIIT will be achieved scholarships.
These students have presented scholarships of up to 100% of their semester fee. Additionally, students who shine in sports and extracurricular activities while studying at SLIIT are also recognized for their accomplishments and achieved SLIIT scholarship of up to 50% of their fees. These grants honour their contribution towards showcasing the talent and spirit of excellence valued at SLIIT. Commenting on the scholarships, Prof. Lalith Gamage, Vice Chancellor/CEO, SLIIT, said, "At SLIIT we firmly believe in creating an environment in which academic excellence can be combined with opportunities for personal development.
Through our scholarships, budding students who have showcased potential to shine have the opportunity to receive support enhancing their future prospects." Students who perform well benefit through SLIIT scholarships receive structured career mentoring and guidance towards a successful future career pathway. They are also able to proudly serve the country as SLIIT graduates. In addition, SLIIT scholarships are aligned with the institute's objectives which enable students to achieve levels of excellence in the fields of IT, Business and Engineering, Education, Science, Architecture, Quantity Surveying, Bio-Technology, Psychology, Nursing and Law.