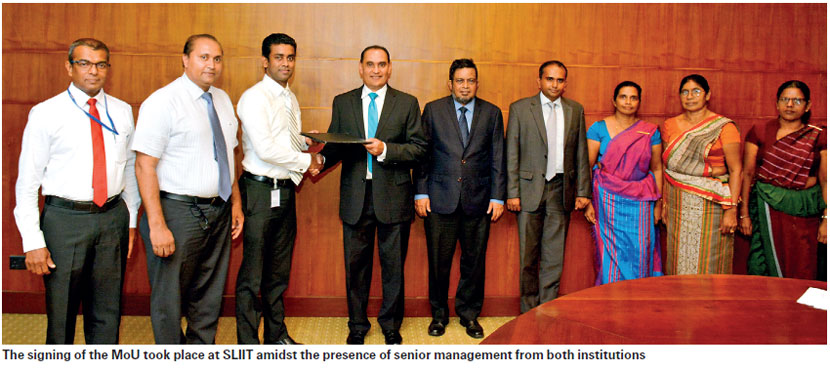 The School of Nursing, Faculty of Humanities and Sciences at SLIIT, signed an important Memorandum of Understanding (MoU) recently with Browns Healthcare Pvt Limited, Ragama to ensure student nurses are provided clinical experience as an important component of their nursing education. The signing of the MoU took place in the SLIIT Main Boardroom amidst the presence of senior management from both institutions. The main objective of the MoU is to provide opportunities for undergraduate nursing students at SLIIT's School of Nursing who are following the Higher Diploma in Nursing leading to a BSc (Hons) Nursing from Liverpool John Moores University, to gain vital clinical experience at Browns Hospitals Pvt. Ltd.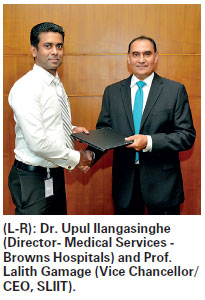 The overarching benefit in providing clinical hands-on practice for student nurses is to ensure they transition successfully into their chosen career pathways. "This opportunity is ideal for both SLIIT and Browns Healthcare as the MoU is designed to guide our student nurses through specialised and hands-on clinical training, while the Hospital benefits from helping to mold, mentor, and coach future health care providers." said Prof. Lalith Gamage, Vice Chancellor/CEO, SLIIT. Additionally, the students will gain vital clinical experience working with real patients. While at the Browns Hospitals they will be supervised by both nursing staff of the Hospital and also by SLIIT (Nursing) lecturers.
This learning will help ensure the students practice quality and safe nursing care to the patients ethically. Through this exposure they will be able to assess, diagnose, plan, implement and evaluate basic and advanced nursing care to the patients under the supervision of the staff nurses resulting in students developing a professional attitude towards their patients, the staff, and their chosen profession. Students will be able to gain clinical experience in specialty areas according to their interests enabling them to participate in activities of professional development and in-service education programmes organised by the Browns Hospitals.
The clinical learning gained will help students prepare and conduct health education sessions for patients regarding particular diseases. Additionally, nursing students will be able to learn further by observing and assisting managerial activities on-going in the wards and participate in research related activities taking place at the Browns Hospitals. "Learning in a clinical setting creates challenges that are absent in a classroom setting. Facilitators have control of the environmental conditions in the classroom whereas in the clinical setting, the teaching and learning are modified according to the situation of the real environment. Clinical experience prepares student nurses to be capable of knowing as well as carrying out clinical principles in practice. Moreover, the clinical practices stimulate students to use their critical thinking skills in problem solving." said Dr. Malitha Wijesundara, Dean, Faculty of Humanities and Sciences.