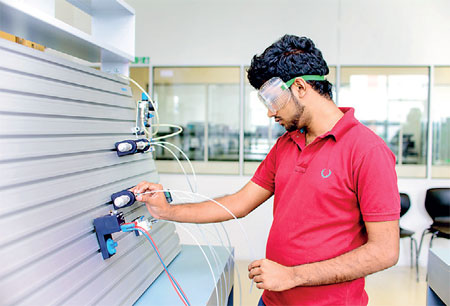 24th May 2019: SLIIT, Sri Lanka's premier non-state sector degree awarding institute, also recognised for its high quality postgraduate programmes is set to host an open day information session for professionals and interested students. SLIIT's Faculty of Graduate Studies & Research (FGSR) has organised an open day information session for prospective applicants to gain insight into the institute's Masters programmes. The Open Day and Information Session for MSc, MBA, MPhil and PhD programmes for the June 2019 intake is set for 15 June at SLIIT's Metro Campus the BOC Merchant Tower, Level 15, Colpetty. Scheduled from 9.00 am to 5.00 pm, SLIIT invites prospective students to learn more about the range of courses on offer, and have their questions on higher education answered.
The MBA programme is priced at a very reasonable cost, while students who complete registration for the programme on the Open Days are also eligible for attractive discounts. SLIIT Alumni receive an additional discount and corporate group to benefit with a reduction in the programme cost when registering on the given days. Commenting on the scheduled Open day Prof. Nagalingam Nagendrakumar, MBA Programme Coordinator, SLIIT said, "Prospective students will be given the opportunity to learn more about the programmes offered by the institution and the different facilities available. These sessions will assist students to understand the unmatched value and experience SLIIT offers" SLIIT's (FGSR) is recognised for creating a learning and research environment steeped in excellence.
The faculty's postgraduate programmes are designed to produce graduates with strong analytical, problem-solving and communication skills to serve Sri Lanka and beyond. MSc degree programmes are available for Information Technology, Information Management, Information Systems, Information Technology Specializing in Cyber Security, while the MSc degree in Information Technology Specializing in Enterprise Applications Development is also offered. SLIIT's MBA programme is in collaboration with the Carleton University of Canada. Professor Rahula Attalage, Dean, Faculty of Graduate Studies & Research said, "The SLIIT postgraduate programmes continue to evolve with the students we support by ensuring that the education provided is aligned with industry-specific needs while keeping affordability and quality in mind. We look forward to showing prospective students our state-of-the-art facilities and depth of the curriculum our programmes offer."
Further information on the information sessions and postgraduate programmes can be obtained via www.sliit.lk/apply or by contacting 0777605077.