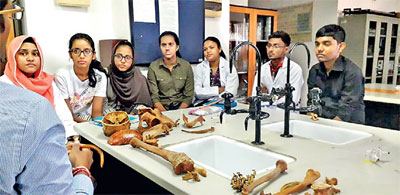 Becoming a Medical Doctor for a day with ANC Future Center Medical Placements was concluded on 11th of May 2019 at ANC Education. The basics of Medicine – MED ED Fair involved doctors, Dr.Prasanna Logenthiran ( Local graduate from university of Sri Jayawardenapura, Lecturer at KDU & Guest Lecturer at ANC ), Dr.Pathum (Graduate from Manipal , Pre Intern), Dr.Harry Prasad (Medical Officer- Gynecology & Obstetrics at Hemas Hospitals, Wattala, AGM- ANC Future Center), Dr.Dharani Jayasinghe (Medical officer Surgery , Asiri Hospital, Medical career guidance consultant ANC Future Center ) , Dr.Uma Gayathri (Graduate from Belarus , Pre -intern)

It concluded with a very productive session with the doctors and the aspiring students who wants to pursue their career in medical field and the result benefitted the both. Dr.Harry Prasad guided the students by enriching their knowledge . Countries such as Australia, USA, Canada, UK, Germany, Ireland, Russia, Latvia, Belarus, Georgia, Ukraine, China, India, Nepal, and Malaysia were emphasized as most admired educational destinations The Basics of Medicine helped students to gain knowledge not only on academic and admission confirmation unlike any other educational fair the students had a great opportunity to get a career counselling from the doctors who are practicing in the specific field. Moreover.
Dr.Harry prasad insisted it is very crucial to choose the universities based on your A/L's results and budget. He further added that only a Doctor can give the best advise not a marketer. The workshop included three main stations, where as in the first station Dr.Pathum focused on subjects like basic anatomy & osteology. Samples were also utilized to give an exposure about the practical knowledge for the students. In station two Dr. Prasanna Logendhiran briefed the students about basic clinicals such as examining the pulse, blood pressure , monitoring technique and demonstration. In station three, Dr. Dharani Jayasinghe demonstrated how to handle simple surgical equipment and how to place sutures.
The highlight of the event was the participants of the event were not only from Colombo but all over the country. The students who participated were excited and contented by the experience and exposure they received by becoming a Medical Doctor for a Day. As for the response of the recently concluded event ANC Future Center Medical Placements aims to continue to host similar event which is certain to deliver international accessibility to the local students like never before. Which will also create a platform for all the aspiring students to discover their ability personally and professionally.
MEDICAL CAREER CONSULTATION
CALL HANEEKA: 076 851 9212
FIND US!
Website: www.medicalplace ments.org
Facebook: https://www.face book.com/ancmed icalplacements /
Instagram: https://www.ins tagram.com/anc_ medical_place ments/
Twitter: ANC_FC_Medical Linkedin: anc-medical-place ments
VISIT US!
ANC Education No: 308-310, R. A. D Mel Mawatha, Colombo 03.
ANC Future Center No: 30, Queens Road, Colombo 03. ANC Medical Placements No: 111 1/2, Maya Avenue, Colombo 06. ANC Branch Campus Kandy No: 322, Peradeniya Road, Kandy. ANC Future Center (Negombo) No: 440/1/1, Colombo Road, 2nd Kurana, Negombo. ANC Future Center (Kadawatha) No: 144/1E, Sumito Building, Kandy Road, Kadawatha. ANC Future Center (Wattala) No: 149, Colombo - Negombo Road, Wattala. ANC Future Center (Galle) No. 66, Colombo Road, Kaluwella, Galle. ANC Future Center (Kurunagala) No: 64, Siripathi complex, Bauddhaloka MW, Kurunegala ANC Future Center (Maharagama) No: 143-1/1, Colombo Road, Maharagama.