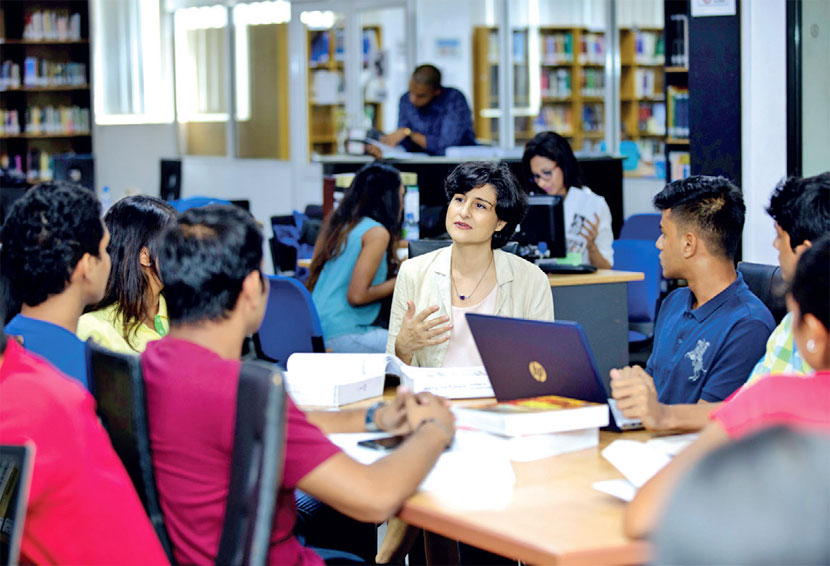 The need for psychologists in Sri Lanka is growing rapidly and the unprecedented changes in the local and global environments have presented many opportunities to thrive in a profession in psychology. Psychologists contribute in numerous ways to optimize processes, structure, individual growth and resilience to create a better environment and improve people's lives in society. The rapid advances in technology, high global competition and changing demographics of the workforce that consist up to five generations currently working together; Millennials (1981-2000), Baby boomers (1965 – 1980), Silent generation (1900 – 1945) and 'Nexters' or generation Z (born after 2000), creates broad differences between generations in a work environment yet it is up to organizational psychologists to contribute towards this rare opportunity and build a dynamic multi- generational workforce.
Psychology has gained momentum over the years and today Psychology plays a significant role in diverse industries and its impact on healthcare, social interactions, marketing of services and workplace wellbeing, is slowly unraveling in Sri Lanka as the need for qualified Psychologists becomes more evident. ANC Education is geared to providing students with a distinct pathway to becoming a Graduate of Psychology. ANC offers the only Authentic American Psychology Degree Completion program in Sri Lanka awarded by the State University of New York (SUNY), the largest comprehensive university system in the United States that offers over 5000 undergraduate degree programs through their 64 campuses creating numerous opportunities to meet the diverse needs of every student across the globe.
ANC Education provides Local and regional students access to a premier American Psychology degree qualification in Sri Lanka. Over 700 students have successfully graduated from ANC's Psychology Transfer program over the past few years and now ANC has provided the option of studying the entire degree program from SUNY Empire State College right here in Sri Lanka as an internal degree completion program. Students can now save over 70% of the total academic expenses by studying locally and can choose from a range of customized payment plans.
American Psychology Degree is a Globally Recognized Qualification
America tops the list for offering the world's best Psychology degree programs. Times Higher Education (2019) ranks the world's top best universities for Psychology degrees around the world, and more than quarter of these top Psychology universities are American universities (136 universities), with Stanford University ranked first place in the 2019 ranking. Students studying the American Psychology degree completion at ANC will be exposed to the latest psychological studies that is aligned with the American Psychological Association (APA), the largest scientific and professional organization of psychologists in the United States. ANC's panel of local & foreign lecturers are vetted and approved by SUNY Empire State College to ensure adherence to quality standards and that course guidelines are met.
The BSc Degree in Psychology provides Students with diverse career opportunities and the option to specialize in Business Psychology, Clinical Psychology, Child Psychology, Forensic Psychology and many more. Our faculty members are committed to fostering critical thinking, know-how on research methods and statistics, where students learn the skill to gather, organize, analyze and interpret data, while Experiential-learning through compulsory internships with over 30 organizations bestow students the opportunity to learn on the job. ANC Education the No.1 American Education provider in Sri Lanka delivers 100 percent American curriculum in line with State University of New York (SUNY) curriculum and provides a solid foundation of core psychological principles and conveys both the scientific nature and the practical application of psychology covering a range of modules to broaden the knowledge and insight into the different specializations in the field of psychology.
Career Diversity for Psychology Graduates
Psychology instills a unique sense of purpose and bestows a high level of emotional intelligence to its students; it also provides fulfillment as you can act as the catalyst to another person's dream as you help guide them through some of the mental challenges they may endure in corporate and family life. Undoubtedly a noble profession, there are many ways in which you can venture forth in this field; given below is a brief rundown of some of the more popular specializations offered:
Organizational Psychologists Psychology
Industrial Organizational Psychologists help companies make sound selection and human resource decisions and help people improve their work performance. I/O psychologists are experts in design, implementation and analysis, and apply their findings in a variety of ways to help solve human and organizational problems in the workplace by asking critical questions that provide valuable insight to organizations to assess the changes needed to be made in systems and people dynamics. I/O Psychologists are in high demand around the world and are offered a pay scale above national average.
Health & Clinical Psychology
Health and clinical psychologists play a major role in influencing how people cope and recover from illnesses such as cancer, mental health and even substance abuse by using applied psychology treatment approaches and counseling to create a positive mindset where medicine alone is not enough. The area of health and well-being is where health psychologists impact peoples' lives the most in order to encourage healthy behavior and life style. Hospitals, clinics, schools, social services and so on are in high need of this expertise of Health & Clinical Psychologists.
Child & Development Psychology
A Profession in Child & Development psychology can be seen as an essential profession around the world to understanding how children learn from an early age and the challenges posed by technology and social media in the learning process requires psychologists today to learn how to integrate technology in a positive way into a child's education. There are many other opportunities in the market for graduates with a Psychology degree these include: Counselling, Forensic psychologists, Neuropsychologists, Geropsychologists, Occupational psychologists, High intensity therapists, Advertising psychology, Sports psychologists in additional to human resource officers, life coach and market researcher across other industries.
Psychology professions is expected to grow at a rate of 19 percent through the year 2024 which is considered much faster than the average growth. (The U.S. Department of Labor's Bureau of Labor Statistics). Hence an undergraduate degree in psychology can be an excellent starting point for further graduate studies and ANC Education provides pathways for a masters in psychology. Psychology is all about making a real difference in other people's lives and helping people overcome adversity, increase wellbeing, and realize their full potential. However, at the same time having a solid understanding of what makes people do certain things can be a very marketable skill in a wide variety of job settings. Take the first step towards reaching the pinnacle of human understanding and be both a facilitator and influencer in the betterment of society; be more than you can be.
Students completing their A/levels and O/levels are welcome to drop in to find out more about our Psychology Degree Completion programs at, No.308 –310, R. A. De Mel Mawatha, Colombo 03 or for more information contact us on 0773 957070 or visit www.ancedu.com and follow us on Facebook: https://www.facebook.com/ ancedu/ and "ANC_Education" on Instagram.