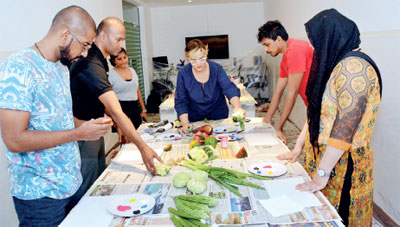 Raffles Colombo, premier international design school, and Likuid Spaces, Colombo`s latest unique coworking space host collaborated to bring together Sri Lankan design enthusiasts to experience the new way of design with everyday items while having fun! Raffles Colombo International Creative Practitioner, Ms. Anna Mosanghini conducted the design workshop which was titled as "Munari Method". Ms.Mosanghini stated that the purpose of this workshop was to make see things from everydaylife like shapes colour in a different perspective. This workshop helped to bring out the minds outside the constructed social system and inspired individuals to be creative and innovative.
Furthermore, Ms. Mosanghini added that this is something anyone can try despite their age, gender or talent. With "Munari Method" the only limitation is your creativity. "Munari Method" was inspired by the Italian designer Bruno Munari. Bruno Munariwas very active on spreading awareness about creativity and he was interested in working with kids since they have not developed any restrain schemes and they are free from fear. This workshop was an attempt to bring that freedom back in to the lives of adults and young adults and to give them a taste of what it is like to live in a world with no restrictions for creativity.
With "Success by Design" their motto, Raffles Colombo takes the pride in creating next generation designers, where they will not only framed to obtain an education qualification but also to be prepared to be a globally recognized designers. Likuid Spaces is the co-working haven for professional & passionate folks such as entrepreneurs, startups, freelancers, creative teams and individuals. They realise how a supporting environment doubles efficiency, so Likuid Spaces will create just the right work atmosphere for you. You need to focus only on your business, and they will offer you everything else.
Thishana M. Rajanayake