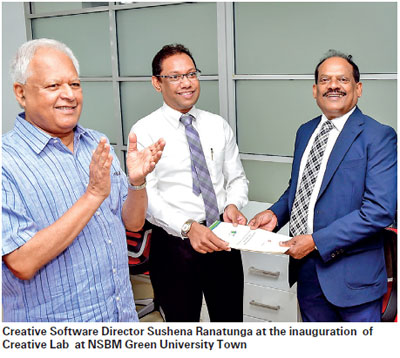 Creative Software works closely with Sri Lanka's leading universities to give students an early industry exposure, helping them develop their professional skills and giving them a head-start on their careers. In keeping with this mission, on June 8 Creative Software inaugurated their student R&D space – Creative Lab - at NSBM Green University Town IT R&D and Business Incubation Centre. The Lab was ceremoniously unveiled by Dr. Sarath Amunugama Minister of Skills Development and Vocational Training. Creative Lab is a modern, 140 ft2 facility located on NSBM campus and designed to mimic a typical office setting at Creative Software's main R&D centre.
Over the next several months, 10 students will be working in the Lab to develop enterprise applications as part of their internship project. The most talented and passionate of students will stand a chance to receive a scholarship to cover their final year tuition, as well as an employment opportunity at Creative Software. Creative Software Director Sushena Ranatunga looks forward to the company's continuous collaboration with NSBM. He believes that projects like the IT incubation centre are paramount in training the upcoming generations of IT professionals.
"Learning how to code is only a small fraction of what it takes to become a successful [software] engineer. Communication and negotiation skills, creativity, business savvy - these are all important parts of engineering. In that sense, classrooms and work environments are quite different, so I believe that the early industry exposure is essential to bridge the gap between them," said Sushena. NSBM Green University Town shares this view. According to Head of Career Guidance Kapila Liyanage, the University will continue to nurture partnerships with the industry representatives to offer their students as many opportunities as possible to put their formal education in practice. "We are grateful to companies like Creative Software for actively enriching the quality of our students' education.
NSBM strives to create unparalleled educational experience for its students and projects like the IT R&D and Business Incubation Centre will help us on this mission," he said. Creative Software is a pioneer and leader in Sri Lanka's IT industry with almost two decades' experience building and managing dedicated teams of software engineers for international clients. NSBM Green University Town is the only sustainable semi-governmental higher education institute delivering home-grown as well as foreign degree programmes in business, IT and engineering.