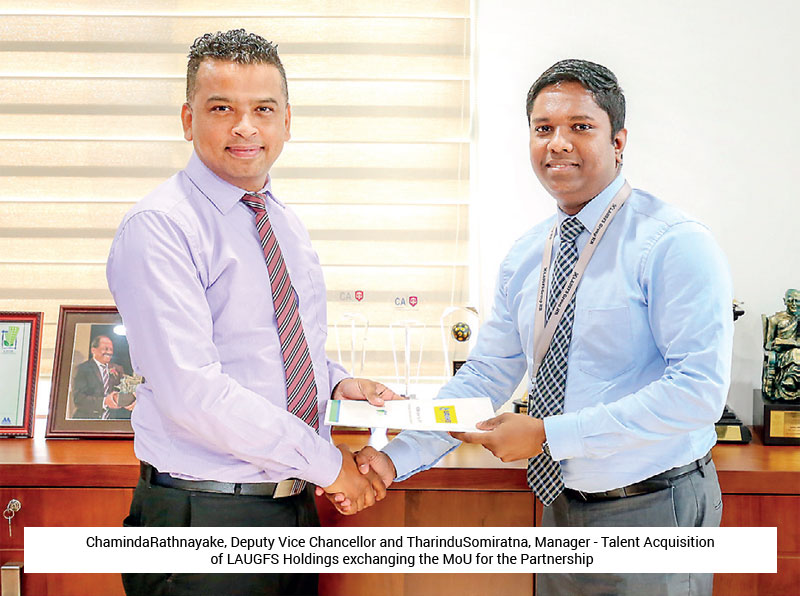 LAUGFS Holdings Limited, one of the largest diversified business conglomerates in Sri Lanka has partnered with NSBM Career Fair - 2017 as the Gold sponsor for the category of School of Business. The Career Fairwill be held on 25th and 26th November 2017 at NSBM Green University Town, Pitipana, Homagama. Chaminda Rathnayake, the Deputy Vice Chancellor of NSBM speaking at the MoU signing ceremony said "We, at NSBM extendexceptional efforts to groom our graduates as industry ready output by the time they complete the degree program".
Tharindu Somiratna, Manager - Talent Acquisition of LAUGFS Holdings Limited added "We as a trusted name in Sri Lanka, making our HR vision to build Great people, teams and a Great Company, take pride in educating the youth of the country in potential career options and helping them make their professional dreams a reality. We believe this partnership for the Career Fair will enable us to do it in an organized manner in collaboration with NSBM".
This Career Fair is an opportunity to meet over 1,100 graduates from the School of Business and over 500 graduates from the School of Computing who are graduatingin December 2017 and are available for employment. In addition, over 2,000 undergraduateswho are available for internships will also be attending the Career Fair.Also the Career Fair will be open for the fresh graduates and undergraduates of other universities and education institutions.
Companies and employer organizations will be ableto meet the above student groups, to inform them about their career opportunities, conduct interviews and recruit fresh graduates and interns at the event. The first day of the Career Fair (25th November) will have a greater focus on Business Management related opportunities while the second day (26thNovember) will focus on IT / Computing related opportunities. A series of Career Guidance, Skills Development and Personal Development Sessions and Mini Workshops will also be held on both days.
Over 45 companieshave confirmed their participation for the Career Fair as of now. This includes companies such as Asia Asset Finance, Astron Limited, Avery Dennison Lanka, BPO Connect, CAMMS Sri Lanka, Codegen, Commercial Leasing & Finance, Creative Software, Dankotuwa Porcelain, David Pieris Information Technologies, DreamJobs.lk, Ernst & Young, Eureka Technology Partners, Everjobs.lk, Extrogene Software, Fidenz Technologies, Flintec Transducers, Hatton National Bank, Headstart / Guru. lk, Hirdaramani Group, hSenid Business Solutions, IFS World, Innodata Lanka, ISM APAC, Jobenvoy.com, LAUGFS Holdings, MAS Holdings, MAS LEGATO, Moody's Analytics Knowledge Services, Nielsen, Omobio, OrangeHRMInc, People's Bank, Prima Management Services, Rakiya.lk, Recruitme.lk, Royal Ceramics Lanka, Serendib Leisure, SimCentric Technologies, Sky Management Systems, Standard Chartered Bank, Stax Inc., Unilever, VS Information Systems, VirtusaPolaris and zMessengerwho will provide internships and entry level employment opportunities related to Business Management and IT / Computing at the Career Fair.
Laugfs Holding Limited, (www. laugfs.lk) the Gold Sponsor for School of Business is one of the largest diversified business conglomerates and a trusted name in Sri Lanka. It has expanded across 20 industries, establishing a strong presence as a leader and pioneer in the power and energy, retail, industrial, services, leisure, logistics and the real estate sectors in Sri Lanka and beyond.
NSBM Green University Town (www.nsbm.lk ) is a fully-fledged University Town built on a 26 acre premise at Homagama. NSBM offers UGC approved and foreign undergraduate and postgraduate pro grammes in Business Management, Computing and Design. Companies can reach NSBM Career Guidance Unit via emailing to [email protected] calling on 011 544 5067 for registration for the Career Fair.