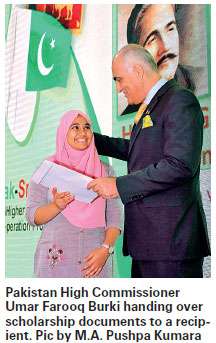 The Pakistani Government sponsored Allama Iqbal Scholarships for 2022 were awarded to Sri Lankan students at a ceremony held at the BMICH recently. The ceremony was organised by the Pakistani High Commission and Higher Education Commission. Pakistani High Commissioner Umar Farooq Burki apprised the guests about the Allama Iqbal scholarships which are sponsored by the Pakistani Government through its Higher Education Commission. The scholarship certificates were awarded to Sri Lankan students who cleared the selection test for the 2022 session.
For 2022, 1200 students applied and 396 of them qualified for this prestigious award. A combination of test scores and previous academic scores of the applicants were scrutinised by a team from the Pakistani Higher Education Commission. The tests were conducted in June and July this year at centres in Colombo, Kandy, Kurunegala and Batticaloa. The High Commissioner said the ceremony was yet another step in the long-standing excellent brotherly relations between Pakistan and Sri Lanka, especially in strengthening the bonds between the youth of the two countries.
The High Commissioner warmly welcomed the team from the Higher Education Commission headed by Dr. Shaista Sohail who specially travelled for this ceremony to Sri Lanka and applauded their efforts in not only conducting this event but also the whole programme which comprised a total of four components exclusively for Sri Lanka.