Five Education Trade Unions last week marked Teachers' Day with a protest in Colombo, in t he We s t e r n Prov i n c e Education Zone, against Govt lethargy in handling issues related to teachers and principals in public schools. The Unions included the Ceylon Teachers Union (CTU), the United Teachers Union, National Principals Union of Sri Lanka, Independent Education Service and the General Teachers Officials Union, who said they wanted to drive home the fact that the teachers in Sri Lanka are undergoing an array of problems and hardship and discrimination.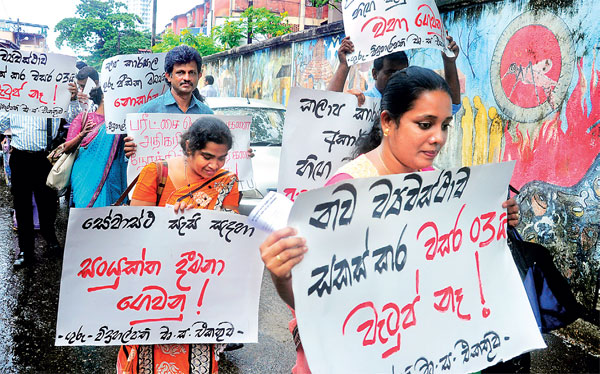 CTU Gen.Sec. Stalin said that, in 1994, t he UNESCO Convention in Paris, adopted Oct.5 as Teachers' Day, to recommend teachers rights to govts and their responsibilities towards their country. He said that, however, the Govt has failed to follow these rules. "The Govt sets up policies and rules without any consultation with representatives of teachers and principals of schools," he said.
"Twenty years after the UNESCO convention nothing has changed in Sri Lanka," he said. Meanwhile, the Unions put forward 20 demands including increments for principals under circular 16/2016, stagnating promotions, delay in granting loans, filling vacancies in the principal's service, giving pressure to teachers to produce best results from schoolchildren, using teachers for administrative work, in addition to their normal timetable, and not recognising years spent by teachers on development work in schools, into their service.