- Dr. Athukorala @ Wayamba University Research Conference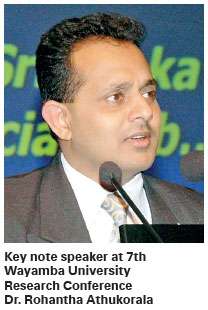 The daughter after Government university in the North Western province- Wayamba University celebrated the 7th Research Congress under the vice Chancellor Snr. Prof. Udith Jayasinghe with the key note speaker delivered by the President Clootrack Software Labs - Sri Lanka, Maldives and Pakistan Dr Rohantha Athukorala. The speaker shared his experience of running a Artificial Intelligence( AI) company in the South Asian region with the university students, research presenters and academia on the implications of AI to Sri Lanka. In simple words he explained that AI is about taking data inputs and turning them into predictions which has helped many companies to get insights to consumer behavior that would not have been able to get through traditional business methods.
Dr Athukorala then explained how Artificial Intelligence (AI) can be used to make Sri Lanka competitive given the proposed Free Trade Agreements( FTA's) that are to be signed to ease the pressure on foreign currency. We have no option but do radical things to stay relevant said the Former Chairman of Export Development Board and Sri Lanka Tourism. He explained how AI was used to understand consumer perceptions in a key market like 'Australia' for Ceylon Tea. Data reveal that, the key attributes that a consumer looks for when selecting as per AI was: quality of tea, type of tea and tea flavours. In marketing jargon we call this 'adoption drivers'; meaning, the attributes that people look for in the evaluation of which brand to purchase he explained.
What is interesting is that the two attributes that the Sri Lankan tea industry has been pushing for so many years – 'single origin tea' and 'Ceylon Tea' were not attributes considered when wanting to by a tea brand. This is where we need bold decisions which can be called reforms said Athukorala. Going deeper into the research diagnostic, 12,073 consumers cutting across through New South Wales, Queensland, Tasmania, Victoria and Western Australia on conversations on blogs, commerce sites, and product reviewed. On the attribute 'quality of tea' the comments include that Sri Lanka's Dilmah brand is a quality tea whilst cues like 'if the tea bag does not break' and 'Dilmah is a preferred brand', the brand Nerada 'tastes like real tea' are mentioned by consumers.
On the attribute 'type of tea' the comments include – green tea, jasmine tea and white tea (as it has less caffeine and stains the cup less) are mentioned specifically. Some like peach flavoured tea and herbal teas. On the attribute 'tea flavours' – peppermint comes out strong as it helps relieve headaches while ginger is used for nausea. Some mention green mint tea and lemon tea as their favourites. In conclusion Dr Athukorala explained how on the attributes 'Ceylon tea' and 'Single origin tea' the attributes were not being registered even though Sri Lanka has been pushing this marketing strategy for over two decades. This is the reality and we must accept this and change by bringing in concepts like the ' Tea Hub' that the industry has been also pushing for years.