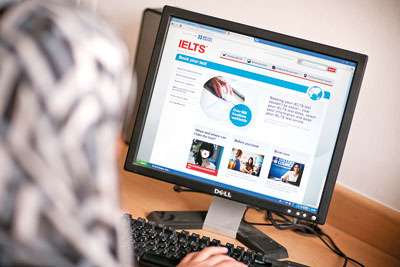 British Council IELTS have launched a new service, IELTS Ready: Premium, providing innovative support for those preparing to take an IELTS test with the British Council. The new platform will include 40 IELTS mock tests, recorded classes and will be fully supported by native English speaking IELTS experts. Users can perfect their IELTS preparation with practice tests in both timed and untimed formats, with all answers analysed to inform the most useful exercises for test-takers to practice. The IELTS Ready: Premium platform is powered by GEL – a leading provider of digital learning in English Language Teaching based in London.
Users will also be able to access:
Writing practice with model answers to show what examiners are looking for to achieve required scores
Feedback on every reading and listening question
Tailored support to target areas where users need to improve
Familiarisation videos so test takers are prepared for their test Test takers receive unlimited free access IELTS Ready: Premium from the time they register for IELTS with the British Council up to their test. During a successful pilot period, the platform achieved high levels of user satisfaction and engagement amongst test-takers. 97% of users said it helped them achieve their desired score and 98% said they would recommend the service to others. Andrew Mackenzie, Director of IELTS at the British Council, said: "We want to give our IELTS test takers every tool we can to achieve their ambitions of living, working or studying overseas.
"We are therefore excited to launch IELTS Ready: Premium, to help them feel fully prepared and have the best chance to fulfil those dreams." Orlando Edwards, Country Director at the British Council Sri Lanka, said: "IELTS Ready: Premium is the best tool for test takers to help them achieve desirable scores that can lead to exciting opportunities while shaping their future in Sri Lanka as well as abroad." About British Council IELTS The International English Language Testing System (IELTS) is the world's most popular English language proficiency test for higher education and global migration.
More than 11,500 organisations globally trust IELTS. These organisations include educational institutions, employers, governments and professional bodies. IELTS is jointly owned by British Council, IDP: IELTS Australia and Cambridge Assessment English. Find out more about IELTS here: www.ielts.org??? About Guided e-Learning (GEL) Guided e-Learning (GEL) is a leading provider of digital learning in English Language Teaching based in London. Working with many of the top ELT providers worldwide, and with more than 15 years of experience, GEL is proud to have supported millions of students in achieving their English language goals. GEL provides two main products, GEL IELTS prep and GELnet for English language schools.