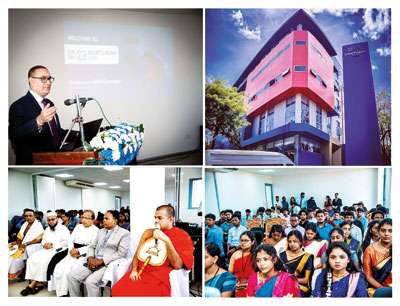 SLIIT NorthernUNI achieved an extraordinary milestone with the grand inauguration of its modern campus located in Kantharmadam, Jaffna, on June 26th, 2023. This momentous occasion marked a historic milestone, captivating the attention of esteemed individuals from diverse backgrounds. The event was graced by the presence of Professor Lalith Gamage, the Vice-Chancellor of SLIIT, alongside prominent religious dignitaries. Among them were a revered Monk, a Kurukkal, an Imam, and a Pastor, who offered their blessings and spiritual wisdom, representing the Buddhist, Tamil, Muslim, and Catholic religious communities, respectively.
The atmosphere was electric as SLIIT staff, well-wishers, proud parents, and eager students came together to witness this historic occasion. Prof. Lalith Gamage expressed his profound joy at the completion of the new campus, stating, "Our staff and students are delighted to be in this new building and there is a real buzz of excitement. SLIIT NorthernUNI will help students in Jaffna region to unleash their full potential and become a greater source of pride for Jaffna for years to come. As a successful and value-driven higher education institution, we aim to provide quality education and outstanding student experience and it will always remain a top priority for us." Situated in the heart of Jaffna, near the sacred Nallur temple, the newly constructed campus stands as a testament to architectural brilliance.
Meticulously designed by highly reputable and ISO 9001:2015 certified architects in Sri Lanka, the building is an impressive five-storey structure, offering a spacious and well-equipped environment. It features a variety of cutting-edge facilities, including classrooms, computer labs, a library, student recreation areas, a comfortable lounge, a vibrant cafeteria, and ample parking spaces to cater to the needs of the student community. Additionally, the entire campus is equipped with seamless wireless internet connectivity, providing students and staff convenient access to online resources using their personal devices.
SLIIT NorthernUNI offers an extensive range of programmes designed to meet the diverse needs and aspirations of students. From bachelor's and master's degree programmes across various disciplines to Professional Development Programmes (PDP), the institution provides a rich and stimulating learning environment. In a significant move, SLIIT NorthernUNI has pledged to support talented yet financially underprivileged students in Jaffna through the government's interest-free loan scheme along with other specially designed loan schemes for NorthernUNI students, ensuring equal access to higher education opportunities.
NorthernUNI, a collaboration between the Magick Group and SLIIT, represents a paradigm shift in the educational landscape of Jaffna. The Magick Group, with its reputation and expertise spanning diverse domains, brings decades of experience and a strong commitment to excellence to this partnership. With a focus on practical knowledge, real-world skills, and holistic development, NorthernUNI prepares students for success in the competitive job market, exemplified by its outstanding placement records.
At NorthernUNI, students embark on a transformative educational journey led by accomplished faculty members who are experts in their respective fields. The curriculum is carefully crafted to foster creativity, critical thinking, and innovation, providing students with the tools and knowledge to emerge as future leaders in their chosen disciplines. SLIIT NorthernUNI extends a warm invitation to all individuals who are passionate about education to visit the new campus and experience the exceptional educational environment firsthand. It is an opportunity to witness the convergence of academic excellence, cutting-edge infrastructure, and a vibrant student community. Embrace the future of education.
Enroll at NorthernUNI today and unlock your potential to make a lasting impact on the world. For more information call us on +94 (0) 771 471 471 or email us on [email protected]