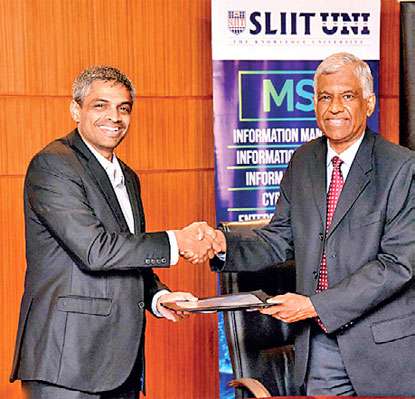 The Sri Lanka Institute of Information Technology (SLIIT), recognized for offering innovative and pathbreaking courses to boost local and international career prospects, signed a Memorandum of Understanding (MoU) with MillenniumIT ESP, one of the largest fast-moving, purpose-driven technology solutions for businesses across the globe. The Industry Engagement Unit of the Faculty of Computing, in collaboration with MillenniumIT ESP (MIT ESP), offers this Scholarship program for undergraduate students of the Faculty of Computing. Founded in 1996, MillenniumIT ESP is a complete enterprise solutions provider serving global customers in telecommunications and media, banking and financial services, manufacturing and retail, and government for over 25 years.
They have developed and maintained world-class operational excellence and integrity standards along the way, while collaborating with industry leaders such as Oracle, Cisco, and many more. MIT ESP is one of the leading IT companies in Sri Lanka, employing 500+ employees who have enhanced and advanced their skills over the years, which has enabled them to deliver customized solutions that provide a technology-first advantage to accelerate innovation in an ever-changing globalized business environment. Sharing his thoughts on this event Mr. Shevan Goonetilleke, CEO / Director of Millennium IT ESP, stated "We are delighted to establish a successful partnership with SLIIT to provide students of the Faculty of Computing with an exclusive scholarship to complete their education.
It is indeed a mutually beneficial opportunity as it nurtures and shapes future generations and engages them in the workforce by providing them with a permanent job opportunity at MillenniumIT ESP at an early stage of their tech career. We look forward to seeing the younger generations succeed in the tech industry in the future, equipping them with technical skills and other industry training and development opportunities at MillenniumIT ESP." SLIIT, founded in 1999, is a Ministry of Education-recognized institute that stands today as a symbol of excellence in non-government post-secondary education.
It is a member of the Association of Commonwealth Universities (ACU) and the International Association of Universities (IAU) and the first Sri Lankan Institute accredited by the Institution of Engineering and Technology, UK. SLIIT produces highly employable graduates at all levels in IT and other industries, and over 30,000 have graduated, with a 96% employment rate. Prof. Nimal Rajapakse, Deputy Vice Chancellor, SLIIT, said, "We are delighted to collaborate with a top-tier IT company in Sri Lanka to provide SLIIT undergraduates with the opportunity to enter the workforce as early as the second year of their IT degree program.
Our students would greatly benefit from this opportunity provided by a reputable organization, particularly in light of the current economic turmoil. It is a dream of every graduate to work for prestigious companies that will reward and build exciting careers in the long run. Therefore, SLIIT is thrilled to partner with Millennium IT ESP, and we anticipate many significant outcomes through this partnership." The scholarships are open to students in all undergraduate programs in the Faculty of Computing at SLIIT and aimed at equipping and empowering high-potential students with technical and other skills. The scholarship recipients will get a head start and fast-track their tech careers while working with world-class tech talent at MIT ESP. The offer includes many learning and development opportunities and comes with attractive salaries and other benefits.