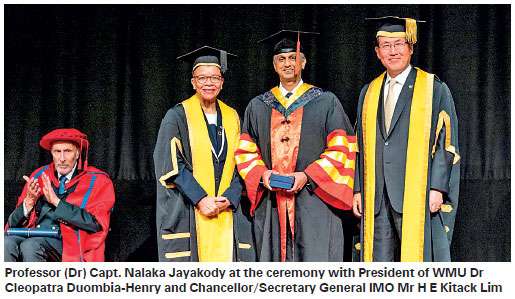 Professor (Dr) Capt. Nalaka Jayakody, a renowned intellect in the academic and marine disciplines both nationally and internationally, was recently acknowledged with the Outstanding Alumnus award by the World Maritime University (WMU) at the 2022 Graduation Ceremony held on in Malmö, Sweden on 31st October. The decision to award this title comes from its Board of Governors, made up of 30 members from various countries and have a range of expertise, ex officio members who represent the International Maritime Organization (IMO), the Government of Sweden, and the City of Malmö. The ceremony was attended by the Chancellor/Secretary General IMO Mr. H E Kitack Lim, President of WMU Dr. Cleopatra Duombia-Henry, the Board of Governors, WMU staff, and many special invitees and dignitaries.
Prof Jayakody is the first and only recipient of this prestigious recognition from South Asia. In his speech at the President's dinner, Prof Jayakody said 'This remarkable acknowledgment certainly marks an important milestone in both my career and life, and to also make my country [Sri Lanka] proud in the midst of the nation's difficult and challenging times.' To date, Prof Jayakody is also the first and only Sri Lankan Master Mariner to obtain a Doctorate and become a professor. Dr. Cleopatra Doumbia-Henry, President, of World Maritime University said 'We are proud to recognize such an eminent graduate and one who has made such an impact in the field of maritime and education.
Professor Jayakody is an example of how, if we work together, we can transform our world and ensure sustainable development for everyone in it.' Prof Jayakody graduated with an MSc in Maritime Education and Training (MET) from WMU in 2001, prior to pursuing his Doctorate in Maritime Affairs from Dalian Maritime University in China. During his study at WMU, Prof Jayakody was the VP of the Student Council and represented WMU at the Malmo Dragon Boat Race for two consecutive years including being awarded the Sportsman of the Year in 2001. He was also awarded the International Leadership Innovation Excellence Award in 2019 by IES India and 'The Award of Academic Excellence in 2014 by the then President of Sri Lanka.
Prior to his stint in academia, Prof Jayakody is a well-experienced seafarer, having sailed with various types of vessels and traveled to over 90 countries working with diverse cultures and people. He received his maritime training from the Australian Maritime College (AMC) including a Master Mariner qualification from RMIT, Australia in 1994. Prof Jayakody is also a speaker at various national and international maritime forums and has significantly assisted and contributed to Sri Lanka's maritime and higher education sectors through diverse involvements.
He is a Fellow and Life Member of numerous professional bodies including the Company of Master Mariners of Sri Lanka. The World Maritime University (WMU) was founded in 1983 by the International Maritime Organization (IMO), a specialized agency of the United Nations, as its premier center of excellence for maritime postgraduate education, research, and capacity building. The University offers unique postgraduate educational programs, undertakes wide-ranging research in maritime and ocean-related studies, and continues maritime capacity building in line with the UN Sustainable Development Goals.
With 5634 alumni from 171 countries and territories, WMU has created a global network of leaders in the maritime and ocean sectors. WMU alumni hold positions of prominence around the world. They serve as senior maritime officials in ministries, as directors of shipping companies and ports, as heads of maritime academies and naval organizations, and many represent their home countries at the IMO and international forums and organizations.