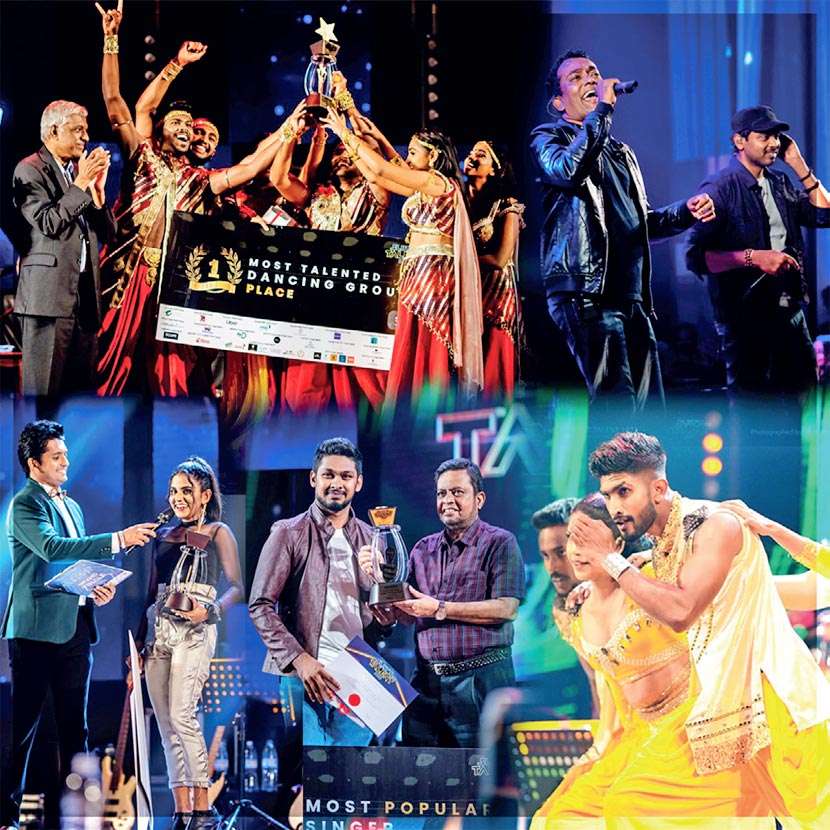 Organised by the SLIIT, Faculty of Engineering Student Community (FESC), after a lapse of two years, SLIIT's Got Talent 2022 was held on 02nd October 2022, with students stepping into the spotlight and showcasing their artistic flairs and astonishing talent through dazzling performances. The annual talent show 'SLIIT's Got Talent 2022' was held for the 8th consecutive year at the BMICH aligned to the theme 'Let's Make it Happen'. The fantastic dancers and beautiful harmonies of the singers showcased gifted undergraduates contesting from all SLIIT Faculties, together with SLIIT's own ensembled orchestra 'Elements', ensuring an unforgettable, memorable event. An audience of 1,600 enjoyed the mega-scale event.
The much-anticipated and awaited event was graced by Chancellor Prof. Lakshman Ratnayake, Deputy Vice-Chancellor Prof. Nimal Rajapaksa, Dean-Faculty of Engineering Prof. Saman Thilakasiri and many other senior staff members. The organisers received 250 entries for the singing category and 14 groups for the band category. After selections, the final competition was among 12 singers and six (06) dancing groups. In the Singing Category, the most talented winners were crowned, with Madara Perera taking 1st place, Vihan Udawela taking 2nd Place, Thushan Wijayakoon taking 3rd place, and Kasun Weragoda taking 1st place in the most popular singer category.
Six Counts won 1st Place in the Dancing Category, followed by Mathra in 2nd Place, The Dazzlers in 3rd Place, and Six Counts in the most popular band. The inaugural SLIIT's Got talent took place in 2013 as a mini-event at the SLIIT Auditorium to encourage students to demonstrate their talents and to promote the Faculty of Engineering. Over the years, the event has grown in stature and is now recognised as a premier event at SLIIT and among the local University fraternity, and organised at large venues such as the BMICH and Nelum Pokuna in Colombo.
Having acquired a formidable brand name, SLIIT's Got Talent was last held in 2019. Due to the pandemic and economic challenges, the event did not take place in 2020 or 2021. This year's SLIIT's Got Talent, debuting after two years, was a resounding success. The outstanding event comprised 120+ students operating as crew, including members of the Faulty of Engineering Student Community (FESC) supported by the Faulty of Engineering Media Club and other student volunteers. A multitude of magnanimous sponsors, including financial support from SLIIT, contributed to the event's success. Judging the contestants were expert panels comprising individuals representing a unique combination of skills, backgrounds, and talents.
Selecting the competition's winners in singing were Palinda Udawela Arachchi, Lahiru De Costa, and Thanura Madugeeth, while for dancing, the panel consisted of Baskar Prakash, Sanchana Mawela, and Sara Abeywardena. Prof. Saman Thilakasiri - Dean Faculty of Engineering, said, "We are extremely proud to support 'SLIIT Got Talent' as an ideal platform for students to showcase their talents. At SLIIT, education goes beyond the curricula. Events of this nature build a sense of camaraderie and offer unforgettable team-building experiences and memories that will help shape their undergraduate education.
Annually, SLIIT Got Talents unearths artists who gain success as professionals too. We thank everyone involved and look forward to continuing supporting student events like SLIIT's Got talent in the future as well." Commenting on the event, Faculty of Engineering Students Community President Abdul Malik said, "The 'SLIIT's Got Talent 2022' competition has been able to unearth and showcase the amazing talents among our student community over the years. The annual event has grown over the years and is now recognised as a premier event, possibly the largest organised by students amongst all the Universities in the country. I am indebted to our committee, the crew, sponsors, and everyone at SLIIT who contributed to supporting this year's event despite a challenging environment and providing our students an unforgettable opportunity to perform."